Submitted by Fred Straker on
It's been said the best camera is the one you have with you. For iPhone owners, the camera is always one swipe away. While this can be an excellent way to document people, places and events, images pile up quickly on an iOS device. Just like any other important data, it's critical to back up irreplaceable photos before something goes wrong.

There are many ways to transfer photos from an iPhone, iPad or iPod touch to a computer or cloud backup. Choosing one or more solutions and using them often will ensure that your images are safely stored. iCloud is a native iOS solution, which comes with 5GB free storage. There are also third-party iOS apps that will back up photos, and several methods to transfer pictures to a computer. Here are the top five ways to back up iOS photos:
1. iCloud
iCloud will run in the background and is capable of automatically making a copy of iPhone photos as they are taken. Just make sure your photo and video collection doesn't exceed the 5GB limit. Otherwise you can sign up for a monthly plan to increase capacity. iCloud pricing plans start at $0.99 per month for 20GB.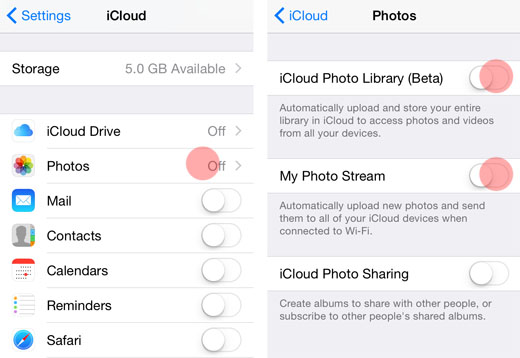 To turn on iCloud photo backups, navigate to Settings -> iCloud -> Photos and tap iCloud Photo Library. You can also turn on My Photo Stream to automatically upload new pictures. Photos are synced to the Photo Stream when connected to Wi-Fi.
2. iPhoto
Many users prefer to back up pictures on their iOS devices locally. Copying photos to a computer can be achieved using various software. To begin, make sure the iPhone, iPad or iPod touch is connected to the computer via USB cable.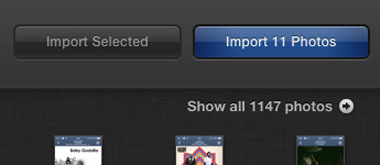 iPhoto will automatically recognize the connected iOS device. Choose the device from the side menu and thumbnails of new pictures and videos will appear. Clicking the blue Import Photos button will transfer all new photos to the iPhoto library on the computer.
3. Image Capture
An alternative to iPhoto is Image Capture. The software is included on Mac OS X computers, under Applications.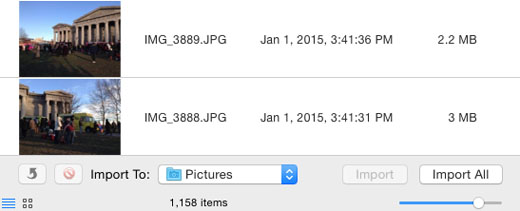 With the iPhone connected to the computer, open Image Capture to see a list and thumbnails of the pictures and videos stored on the device. Select a destination directory and click Import All to copy the image files to the computer.
Windows users are not left out of the fun. While iPhoto and Image Capture may be foreign to PC owners, iOS pictures and videos can easily be copied to a PC. Click here for Windows instructions on how to copy pictures and video from an iOS device to a PC.
4. Flickr
Last but not least, there are many third-party iOS apps that will upload photos to the cloud. Managing libraries of pictures right on your iPhone, iPad or iPod touch is simple with free apps such as Flickr or Dropbox.
Flickr is a photo sharing app and website, offering 1TB of free storage, social features and a large community of photography buffs. All iOS photos can be uploaded and stored in their original quality, to be accessed from anywhere. Flickr requires a free Yahoo! account.
5. Dropbox
Dropbox is known for cloud storage of all kinds of files, and offers 2GB free. Additional storage space can be earned for free through referrals and other activities, or purchased starting at $9.99 for 1TB. Dropbox will ask to back up all of your iOS photos when first opened. Features in the Dropbox iOS app make it possible to automatically upload new photos, and limit photo transfers to Wi-Fi only. Pictures stored on Dropbox will be accessible from anywhere in the Camera Uploads folder.
Don't take the unnecessary risk of keeping iOS photos only on the iPhone. With one or more of these top five photo backup solutions, the images will be stored elsewhere in case of problems with your mobile device. While an iPhone may be an easy way to snap pictures, it's not the best place to store photos for the long term.