Submitted by Fred Straker on
iPhoto makes it possible to tweak and modify the appearance of photos without permanently changing the original image files. The export function provides several options to control how photos are exported from the iPhoto library. Photos can be exported in their original state or with any modifications that were added by editing in iPhoto.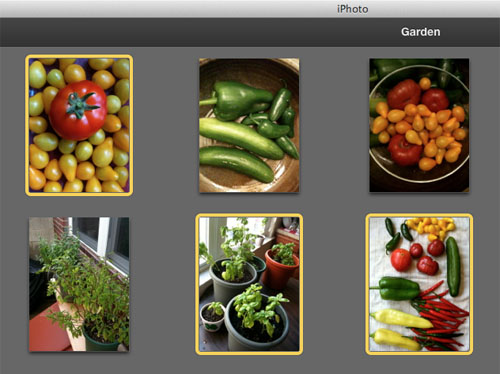 To start, open the event or album that contains the photos you wish to export. Photos can be selected by clicking a thumbnail. When selected, thumbnails will have a yellow border. To select multiple photos click while holding the shift or command key. All photos can be selected at once using select all (command-A).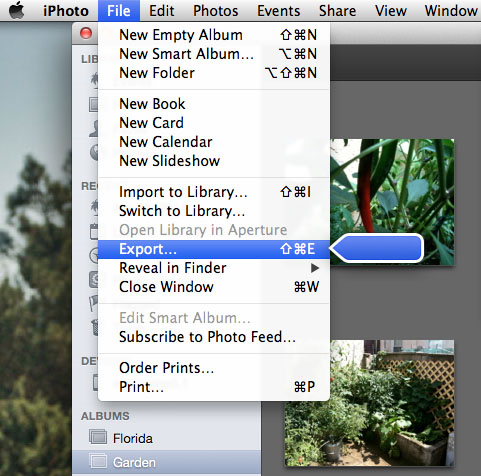 Once you have selected the photos to export, navigate to File -> Export on the main menu. A dialog box will appear.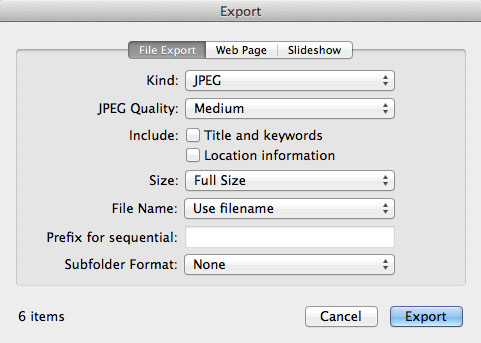 The first option, File Export will create new image files from the selected thumbnails. To export the original photos, exactly as they were captured by the camera select Kind: Original. Otherwise iPhoto writes any edits to the photos as they appear in the iPhoto library.
After choosing a file format for the export, there are options to include file metadata and resize the image if desired. Click the Export button and select a directory in which to save the exported photos.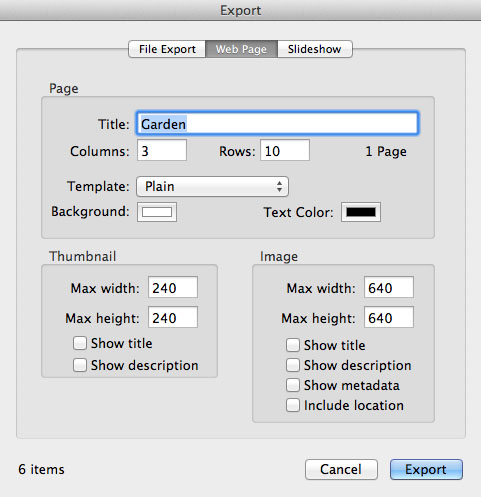 iPhoto also includes Web Page export, which will automatically create a photo page for viewing in a web browser. The number of columns and rows, along with frames and other design considerations can be determined from the options. Sizing of both the thumbnails and full images on the web page can also be customized. Once complete, the web output will be generated for viewing.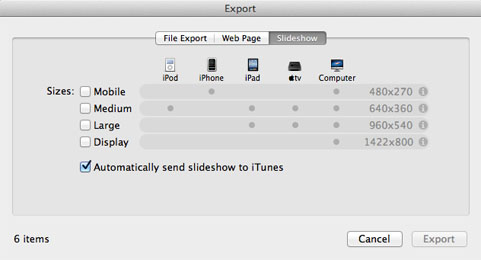 Finally, iPhoto can export a Slideshow including all of the selected photos. Depending on the device that will be used for playback, there are multiple size options to choose from. To automatically send the slideshow to iTunes for viewing leave this box checked.