As soon as the iPhone 5s hit the market the iPhone 6 rumor mill began churning, and claims of varying sizes, shapes, release dates and new functionality are now all over the web. At this point, the one rumor that has gathered the most steam is that it will be available in two different sizes. Pictures of a pair of alleged prototype iPhone 6 cases have emerged, and seem to lend credence to that rumor.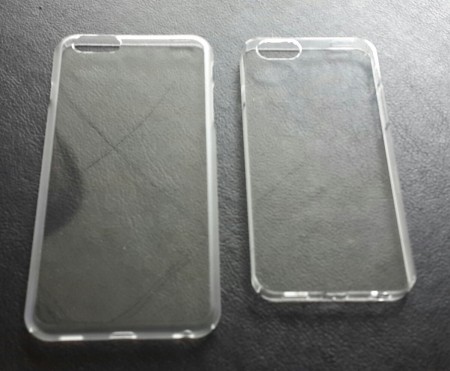 MobileFun recently received a picture of two supposed iPhone 6 prototype cases lying side by side. The source of the photo is not entirely clear, so, as usual, take it with with a grain of salt. Aside from the two different sizes, it appears that there is a cutout on the right side of each case (left side in the pictures). This supports KGI Securities analyst Ming-Chi Kuo research note from earlier this week that suggested
the sleep/wake button will move from the top of the iPhone to the side. The other cutouts appear to fit the familiar arrangement of the iPhone 5 - a lightning and 3.5 mm port on the bottom, camera and flash on the back, volume buttons and ringer/vibrate switch on the left side. You can't tell what the sizes are in the picture, but most rumors agree on a 4.7" model and a bigger "phablet" size 5.7" model.
Ming-Chi's research leads him to believe the larger model will be 5.5" rather than 5.7". He expects the iPhone 6 to be powered by the A8 processor, 1 GB RAM, a Touch ID fingerprint sensor, a narrower bezel and a thinner body, 6.5 - 7.0 mm as opposed to the current 7.6 mm. He also expects them to be equipped with NFC chips, which opens up a world of possibilities, most notably the ability to make mobile purchases. He hasn't made any speculations on specific release dates, but he thinks the larger model will debut after the standard size model, most likely around the holidays.