Submitted by Bob Bhatnagar on
Worried about privacy or battery life issues due to built-in GPS on the iPhone? Checking to see which apps are using Location Services in the background is normally a multi-step process. Opening Settings and navigating to the correct section of the Privacy menu gets the job done, but now there's an easier way. The free tweak Location Sentry brings this information to jailbroken devices without any hassle.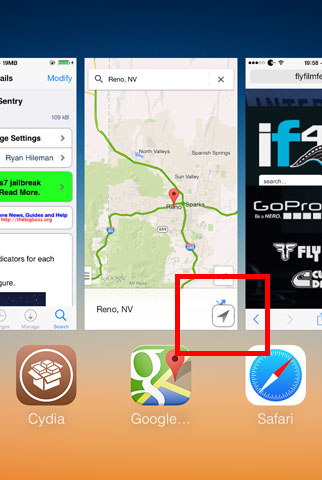 Once installed, Location Sentry lets you know which apps are using Location Services directly in the app switcher. Each app card that is tapping into the device's current location is marked with a location icon in the lower right corner. Scrolling through app cards will paint a complete picture of which apps are potentially tracking your position and contributing to battery drain.
To prevent apps from using Location Services when you don't want them to, toggle them under Settings -> Privacy -> Location Services. Apps in this list for which location is disabled (grey slider) will not use these services. Ultimately, if you don't need or want to use the GPS at all, battery life can be maximized by switching off Location Services entirely.
Location Sentry provides an easy way to see which apps are checking GPS data and potentially using or recording this information in the background. There are no settings or options to configure. To disable Location Sentry, uninstall the tweak from Cydia.
Location Sentry is available free from Cydia on the BigBoss repo. Check here for
instructions on how to jailbreak iOS 7.x with evasi0n 7
. You can also find out
how to purchase and install Cydia tweaks with this guide
.