Submitted by Frank Macey on
Apple is celebrating Earth Day by launching a revamped reuse and recycling program for used electronics. The company is also highlighting its environmental focus in a new film titled Better. While the film mostly shows off Apple's large-scale solar arrays, the expanded recycling program continues to divert used electronics from landfills worldwide.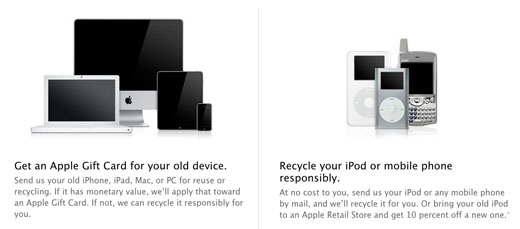 The recycling program is divided into two parts. The iPod and Mobile Phone Recycling Program will accept used iPods and any manufacturer's mobile phone free of charge. Bringing an iPod to any Apple store for recycling qualifies the customer for 10 percent off the purchase of a new iPod. Apple will also pay for packaging and shipping for those who mail the iPod or mobile phone out for recycling.
Apple's Reuse and Recycling Program offers Apple gift cards for devices that can be reused. iPhones, iPads, Macs and PCs (desktops and notebooks) are covered by the program, which includes free shipping. Gift cards can be redeemed at any Apple store or using the Apple store online. If the device cannot be reused, the equipment will not qualify for a gift card but it will be recycled free of charge.
The program doesn't end there. Apple will accept computers and displays from any manufacturer with a prepaid shipping label. Mac batteries can also be turned in for recycling at any Apple store.
Considering that Apple sold over a billion iOS devices and computers in the past seven years, these recycling programs can have a significant impact on the environment. According to Apple, recycling often recovers 90 percent of the weight of the original product for materials reprocessing and component reuse. All equipment is disassembled, with reusable components removed. Glass, metal and plastic are reprocessed for use in new products.
Apple has raised the bar by expanding access to electronics reuse and recycling worldwide. Now it's up to consumers to take advantage of these programs, responsibly disposing of unwanted electronics.