Submitted by Fred Straker on
Every photo taken by the iPhone contains Exif metadata, which details everything from an image GPS location to camera and exposure information. The stock Photos app in iOS 7 will organize photos by date and even display them on a map, however the Exif data is hidden. Viewing all of the Exif metadata or GPS coordinates for a particular photo requires a third-party app.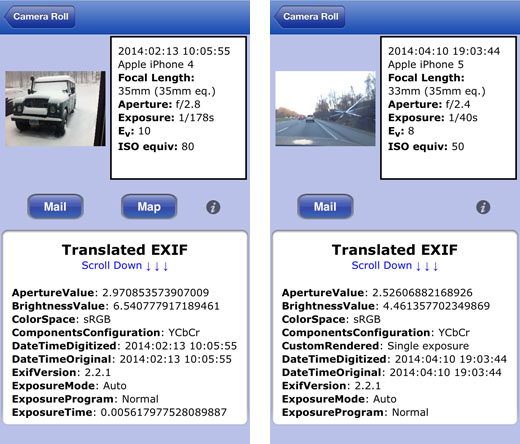 Exif Wizard is free on the App Store and covers the basics with a simple interface. To view Exif photo metadata on the iPhone, first install Exif Wizard. Once installed, run Exif Wizard and when prompted, give the app permission to access your photos.
When opened, the app will start with Albums. To view Exif (Exchangeable image file format) metadata for a photo, tap the album then tap the photo. For large albums or a long Camera Roll, there is a Begin button in the top right corner that will skip to the earliest photo.
Once Exif data is displayed, tapping the photo preview displays the full-resolution image full screen. All of the translated Exif details are in the bottom window, which can be scrolled up and down with a swipe. Tapping the circle information icon brings up full instructions for the app.
Looking for GPS data? Besides listing latitude and longitude coordinates in the translated Exif window, if the photo was geotagged a Map button will automatically appear in the center of the screen. Selecting the Map button will show the location of where the photo was taken with a pin. Tap the Maps App button in the upper right corner to copy the pin to the stock Maps app.
The Mail button sends a copy of the photo along with Exif data as text in the body of an email. For more features, there's an Exif Wizard-Pro version available for $1.99.
While there are other options in the App Store to view Exif photo metadata on the iPhone, Exif Wizard is free and gets the job done quickly.