Submitted by Sammy Snyder on
Siri may have been the star of Apple's WWDC keynote presentation in 2011, but the personal voice assistant only got a slight mention near the end of the company's iOS 8 preview this year. Apple quickly touched on Siri's new song recognition talent and a few other features, before moving on to the new developer tools in iOS 8.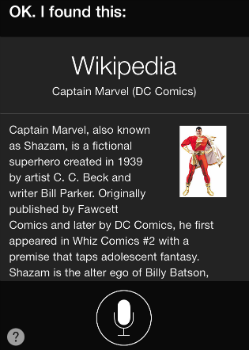 iOS 8 users will be able to access Shazam's popular audio recognition database by asking Siri, "What song is playing". The voice assistant will then identify any song playing in the background and offer users the chance to buy that song through iTunes. This new feature comes as no surprise since Bloomberg leaked it back in April.
iPhone owners who have their device paired with their car will soon be able to wake Siri by shouting "Hey, Siri". This feature is a lot like Google's "OK Google" command found on certain Android devices.
Siri will also be gaining 22 new dictation languages but Apple did not mention what they will be.
It is odd that Apple spent so little time on Siri this year since the company is rumored to be working on its first wearable where speech would be an important way for people to interact with the device. It is as if Apple has delegated the voice assistant to nothing but a lonely iTunes song peddler, instead of the star feature it used to be. Maybe we will hear more from Siri if Apple actually announces its rumored "iWatch" like the company is supposed to this fall.
For now, Apple hopes its new Shazam integration and the ability to purchase songs through Siri will help increase sagging iTunes downloads.