The big news of last week was the 7-to-1 stock split that Apple (NASDAQ: AAPL) shares underwent on Friday after the market closed. All shareholders of record as of market close last Monday, June 2, received an additional six shares. The price per share was $645 at closing on Friday and opened today at the split adjusted price of $92.70.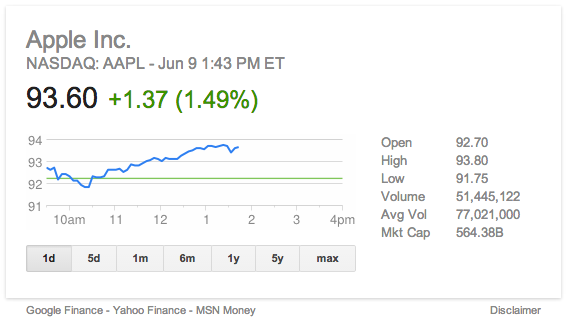 Shortly after Apple announced an API for Touch ID, Paypal announced that it will incorporate the fingerprint sensor into its mobile apps. This will facilitate fast, secure and convenient mobile payments. According to Business Insider, "Touch ID may also anchor an eventual full-fledged mobile wallet service from Apple itself."
After Apple announced iOS 8 at the WWDC 2014 keynote presentation last Monday, it confirmed that the new operating system will be compatible with some of its older hardware including the iPad 2, iPhone 4s and fifth generation iPod. This could serve to keep customers loyal and eventually upgrade to newer models.
Internet analytics firm, comScore, announced on Tuesday that Apple still holds the top position in the smartphone market with 41.4% share. Samsung increased its share slightly from January to April, and now holds a 27.7% market share. Google's Android holds the top spot for mobile OS's, with a 52.5% market share.
T-Mobile and Canadian carrier, Rogers, both
announced they would support Wi-Fi calling
. Wi-Fi calling is a new feature that will debut with iOS 8, but Apple did not talk much about it during WWDC.