In a note to Apple CEO Tim Cook today, billionaire investor Carl Icahn revealed that Icahn Enterprises believes Apple (NASDAQ: AAPL) stock is currently trading at about half of what it is worth. In order to remedy this, the note basically urges Cook to convince the Board of Directors to buy back more stock at a faster pace.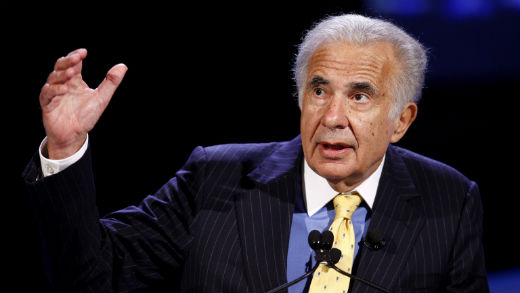 According to the note (which is titled "Sale: Apple Shares at Half Price," and posted on Icahn's site, Shareholder's Square Table), Icahn Enterprises' projected growth for Apple in FY 2016 and FY 2017 "more than adequately justifies using a P/E multiple of 19x our FY 2015 forecast, which along with net cash values Apple at $203 per share
today." Pointing to Apple's "excessive liquidity" of $133 billion in cash, Icahn urges Apple to use it to buy back more shares:
You have said before that the company likes to be "opportunistic" when repurchasing shares and we appreciate that. With this letter we simply hope to express to you that now is a very opportunistic time to do so. We think a tender offer is simply a good method of conducting a large repurchase in an expedited timeframe, but the exact method and the exact size is not the key issue for us. We are simply asking you to help us convince the board to repurchase a lot more, and sooner. We feel compelled to do so because we forecast such impressive earnings growth over the next few years, and therefore we believe Apple is dramatically undervalued in today's market, and the more shares repurchased now, the more each remaining shareholder will benefit from that earnings growth.
A tender offer is simply an offer to purchase stock from current shareholders, usually for an above market price. Icahn, however, is apparently not interested in the details of the offer. Going further, in order to quell any suspicions the board may harbor, he promises not to tender any of Icahn Enterprises' shares, of which there are about 53 million.
The note goes on to outline some of the positive points Icahn sees in Apple:
iPhone

"Legendary reviewer" Walt Mossberg says of Apple's flagship, "This is the best smartphone you can buy, and I am unequivocal about that." Icahn Enterprises believes that due to high demand for the new phones and their entrance into the Chinese market, revenue growth will increase 30% in FY 2015, followed by 7% and 10% in the following two fiscal years respectively. The iPhone currently accounts for 55% of Apple's net sales.

iPad

Even though iPad sales disappointed this year, Icahn believes the larger, more robust iPad Pro, combined with better offerings on the next generation iPad mini and iPad Air, and the partnership with IBM will result in 13% revenue growth for the company in FY 2015. He believes growth will remain at 13% for the following two fiscal years. iPad sales currently account for 17% of Apple's net sales.

Mac

Icahn Enterprises believes Mac sales will remain steady for the next three fiscal years. Mac sales currently account for about 13% of Apple sales. That said, Icahn believes there is room for growth if Apple develops a hybrid tablet/desktop OS that would take advantage of the larger iPad Pro and help Apple penetrate the "$63 billion sub $1,000 laptop market in which [it] barely participates today."

iTunes, Software and Services, Accessories, iPod

These currently comprise 10%, 3% and 1% of Apple's sales respectively. Icahn believes iTunes, Software and Services is one of Apple's faster growing segments and expects it to continue double digit growth. He believes the Beats acquisition will more than offset the rapid decline of iPod.

Apple Watch

Icahn expects the Apple Watch to have a "significant impact on Apple's growth" over the next three years. Their forecast calls for 20 million sales in FY 2015, 45 million in FY 2016 and 72.5 million in FY 2017, at an average price of $450.
He also ponders an Apple UltraHD TV, which he believes could be a boon to Apple's revenue - the forecast calls for 12 million sets to sell in 2016 and 25 million in 2017 at an average price of $1500, though he admits that Apple has not and may never announce such an item. He also touts the importance of HomeKit and HealthKit to the Apple ecosystem, though he adds that since neither have been monetized yet, they were not included in the forecast.
As for Apple Pay, he believes there is a lot of potential, but also a lot yet to be determined. He forecasts revenues of around $2.5 billion in 2017 if Apple Pay reaches 30% market share.