Submitted by Anders Batten on
It is time to decide what to do with your old iPhone now that Apple has officially announced the iPhone 6 and iPhone 6 Plus. The new models will be available on September 19th, which still gives you time to lock-in a trade-in value for your old device. The electronics re-seller Gazelle is currently offering up to $335 for select used iPhone models, but prices normally fall sharply when a new iPhone is announced, so you should act now.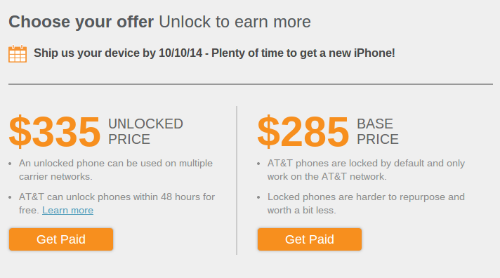 Trading-in your old iPhone model for cash is easy and can nab you a new iPhone 6 for free. For example, the 4.7-inch iPhone 6 will be available for pre-order on September 12th starting at $199 and the 5.5-inch iPhone Plus will be available starting at $299. If you lock-in your trade-in value now you could potentially get up to $335 depending on the condition and model of your iPhone. That's more than enough money to buy a 16GB iPhone 6 or iPhone 6 Plus.
To get a get a quote and lock in your trade-in value just go to Gazelle.com and select your iPhone model, carrier and model (16GB, 32GB or 64GB). Next, select the condition of your iPhone: Bad (cracked screen or body), Good (no cracks on screen or body) or Flawless (like new, no scuffs or scratches). Do not lie about the condition of your device or you will not receive an accurate quote. Finally, click the "Continue" button to receive your estimated trade-in value. If you agree with the price you can click "Get Paid" and log in or create an account. This will lock-in your trade-in value for 30 days and you can change your mind at any time.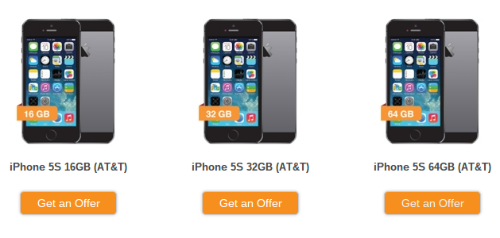 Once you agree to sell your phone to Gazelle, the company will send you a postage paid box to ship them your device. The Gazelle team will then check out your phone and pay you via check, PayPal or Amazon Electronic Gift Card. If your device does not match the condition you specified Gazelle will send you a revised offer. You will have 5 days to accept or decline the new offer. If you choose to decline your item will be returned to you free of charge.
Remember to at least lock-in your quote now so you will get the best value for your device. You do not have to send Gazelle your phone if you change your mind.
Gazelle is currently accepting trade-ins for the iPhone 4 or later.