Canadian investment firm BMO Capital Markets is expecting a huge amount of iPhones to sell next year, along with a modest number of Apple Watches. In accordance with its expectations, earlier this week the firm increased its share price target to $110.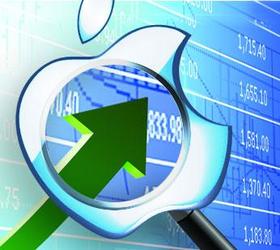 In a research note provided to AppleInsider, BMO analyst Keith Bachman remained with his "outperform" rating for AAPL shares. He projects 189 million iPhone (all models) sales in fiscal 2015, up about 10 million units from his previous projection.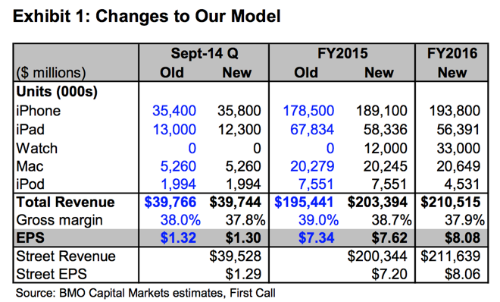 In terms of the new generation of iPhones, Bachman believes the 4.7" iPhone 6 will account for 70-75% of sales while the 5.5" iPhone 6 Plus will represent 25-30%. He also believes the phablet sized 6 Plus will take a bite from iPad sales, prompting him to lower his iPad sales projection by about 10 million units, to an FY 2015 total of 58 million sales. He estimates about 12 million Apple Watch sales in FY 2015.
As for Apple Pay, the new mobile payment system that will work with the NFC chip found in both the iPhone 6 and Apple Watch, Bachman doesn't see it significantly affecting the company's bottom line. He thinks it will drive iPhone and Apple Watch sales, but won't itself create "meaningful incremental revenues."