Another investment analytics firm has joined the club and raised Apple's target price per share. Just a few days after BMO raised its target price to $110, Evercore Partners went a bit further, raising its price to $125 from $115.
In a research note to investors, provided to AppleInsider, Evercore analyst Rob Cihra maintained his "overweight" rating for Apple stock (NASDAQ: AAPL), meaning that he expects the stock to return above the average of the overall industry. He upped his fourth quarter iPhone sales estimate to 39 million, which would represent a 15% year-over-year increase. Fourth quarter results will be disclosed on Monday Oct. 20 at 5:00 PM ET.
He also believes that Q1 FY 2015 could be a record breaking quarter for the Cupertino giant. He forecasts a whopping 65 million sales for the quarter, which would represent a 27% year-over-year increase.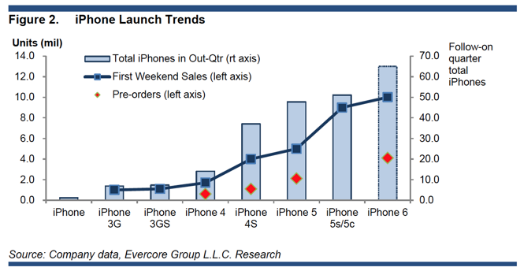 Cihra's positive outlook is largely due to the appeal of the iPhone 6 and iPhone 6 Plus' larger screens. The industry has trended toward larger displays in recent years, and he believes Apple's new 4.7" and 5.5" handsets will generate a "major upgrade cycle."
In addition to increased sales, Cehra notes that the average sale price of the iPhone may increase as well. This seems likely, as a certain percentage of iPhone users will certainly upgrade to the 6 Plus, which is $100 more than the smaller model.
Aside from the 39 million iPhone sales for Q4, Cehra estimates that Apple will report revenue of 40.1 billion, which would be a 7% increase over the previous year's fourth quarter. He also expects earnings of $1.31 per share, an 11% year-over year increase. For FY 2015, he expects $210 billion in revenue (a 16% YOY increase) and $7.53 earnings per share.