Submitted by Sammy Snyder on
Apple's iTunes Connect will be shut down starting December 22-29 for the winter holidays. Developers will not be able to submit any new apps or app updates during the blackout. This means there will be no new games released to the App Store in 2014 after next week, and that it is the perfect time to announce our favorite iOS games of the year.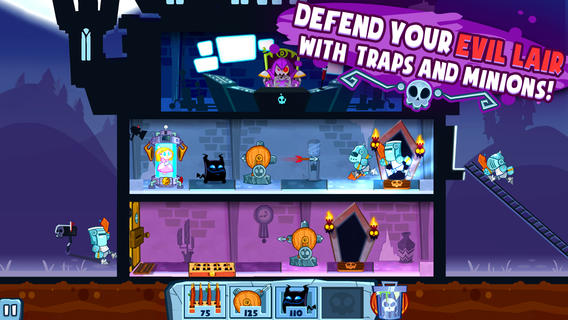 This is just five our favorite games based on a very small sampling of the thousands of titles released to the App Store in 2014.
The games are not listed in any particular order.
Also don't forget to follow us @iPhone_FAQ and on Facebook so you can stay updated on all the great App Store releases in 2015.
Castle Doombad by [adult swim] and Grumpyface Studios
The only problem with Castle Doombad is that there is no known sequel in the works. The reverse tower defense game was developed by Grump Face Studios and published by Adult Swim. In the game, players take on the role of the villain, Dr. Lord Evilstein, after he just kidnapped a kingdom's princess. The goal of the game is to keep the princess for yourself by defending your evil lair from the various heroes trying to save her.
Lots of games released to the App Store promise to offer a new twist on old genres, but Castle Doombad is one of the few that really flipped the tower defense platform on its head. Instead of the usual upgradable tower system found in most games, Castle Doombad features fun traps like an "Overactive A/C" to freeze your enemies or a "Fatty Troll" to block staircases. The game also captures the essence of Adult Swim with its fun characters, great graphics and overall awesomeness. Don't believe me? Castle Doombad was not only one of the best reviewed games of the year, it also made Apple's Best of 2014 List.
Read our original Castle Doombad review here.
Download the ad-free version of Castle Doombad for $2.99 here or the free ad-supported version here.
Smash Hit by Mediocre AB
This is another title that deservingly made Apple's Best of 2014 list and it was named our App of the Month back in March. It is a surreal and captivating game where the goal is to get through different dimensions by smashing glass objects. The ambient music synchronized with the sound effects of smashing glass and movement of the 3D graphics makes Smash Hit relaxing, destructive and challenging all at the same time. It's really hard to explain but highly recommended. You can download the first few levels for free and buy the full game for $1.99. You'll see why the $2 is worth it once you play it.
Read our original Smash Hit review here
Download Smash Hit for free here.
Five Nights at Freddy's by Scott Cawthon
How does someone make a few still images on the iPhone or iPad terrifying? You have to ask Scott Cawthon, the developer behind the hit game Five Nights at Freddy's. The game is set at Freddy Fazbear's Pizza, a Chuck E. Cheese's-like establishment that is a little odd. You're hired as the the new night watchmen to guard Freddy Fazbear and his animatronic pals, who entertain children during the day. The only problem is that the robots become a little unpredictable at night and your only protection from them is a set of security cameras and doors that run on limited power. You must try and survive the night by tracking Freddy and his friends on your unreliable cameras as they creep towards your office.
Five Nights at Freddy's and its sequel are an amazing achievement. Even though both games feature very simple controls they still manage to be absolutely entertaining and really terrifying. I honestly haven't played a game that has made me jump out of my seat until Five Nights at Freddy's.
Read our original review of Five Nights at Freddy's here.
Download Five Nights at Freddy's for $2.99 here.
Puzzle to the Center of the Earth by Foursaken Media
I'm personally not fond of platform games on mobile devices, but Foursake Media's match-three hybrid of the genre changed my mind. The premise of Puzzle to the Center of the Earth is simple, use your finger to match colored blocks to dig your way down through various stages. On the way down you will encounter traps, killer rats and other hazards as you dig your way through ice and lava to discover hidden worlds and treasures. The game offers a lot of replay value thanks to each level featuring a hidden lever and gold star for you to find. It is up to you if you just want to advance to the next stage or take the time to find these items. Finding all the hidden levers allows you to open bonus levels filled with riches. The game is challenging and fun, and the controls are very easy to master. This games seems to have slipped a little bit under the radar, which is a shame.
Read our original review of Puzzle to the Center of the Earth here.
Download Puzzle to the Center of the Earth for free here. Includes the option to buy infinite lives.
Bio Inc. - Biomedical Plague by DryGin Studios
Bio Inc. may not be for everyone, but its such a unique idea that I had to include it on our list. The goal of the game is to kill someone by by infecting them with various diseases. You're basically death, who can kill someone by slowly cursing them with simple ailments such as hypertension and working your way up to a brain aneurysm. Bio Inc. is best described as resource management title, where the in-game currency is bacteria and viruses. The game offers several levels with different challenges and difficulties. You'll want to read our original review to get a better understanding of the game, or just download if for free to see why it was one of our favorite games of the year.