Submitted by Frank Macey on
Verizon Wireless customers with devices running iOS 8 can now get data plan usage statistics right in the Notification Center. The latest version of My Verizon Mobile, available free on the App Store, provides a data usage widget. Once the widget is added, current data usage for the billing period is displayed when Notification Center is invoked.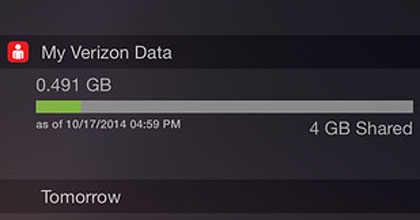 My Verizon Mobile already provides many functions for iPhone and iPad users looking to pay their bill, check voice calling and text message statistics, and manage features on their accounts. Getting the data meter is as simple as updating the app to version 3.13.4 or later, and then adding the widget to Notification Center.
Click here for more information on how to add widgets to Notification Center.
Mobile carriers are not only competing for customers, they are competing to keep customers, too. Verizon, AT&T and others are working overtime to make their iOS app offerings more robust. The Verizon Data Usage widget is the latest addition to the app race, which helps iPhone owners keep on top of remaining data plan capacity.
When it comes to the My Verizon Mobile app, several other improvements are included in the 3.13.4 update besides just the widget:
1. Improved navigation, check in and product details for Smart App UI Redesign

2. Addition of explore modes with featured products with each zone of the store for Smart App UI Redesign

3. Minor bug fixes.
The Verizon Wireless iOS app clocks 10.3 MB and is available free for devices running iOS 6.0 or later. Click here to get the latest version on iTunes.