Submitted by Bob Bhatnagar on
Purported next generation iPhone 5 parts have been revealed by two independent smartphone repair outfits. This unreleased iPhone features four antenna separation gaps in the silver frame, one at each corner of the device. In contrast, the iPhone 4 only has three of these black lines.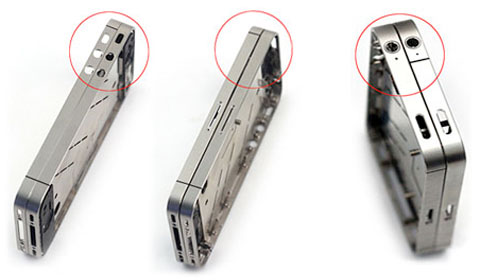 Although these changes to the iPhone frame are likely a redesign of the antenna, it's not clear if the changes are to accommodate the Verizon Wireless LTE network or simply to reduce the attenuation issues experienced by some users. Apple decided to distribute free cases to iPhone 4 owners last year due to complaints that the iPhone 4 dropped calls when held a certain way.
The ensuing media storm was dubbed "Antennagate" even though the iPhone 4 external antenna design was more sensitive to low strength cellular signals. Those who are having problems with their iPhone 4 can still request a free case from Apple.
Assuming the iPhone 5 or Verizon iPhone parts pictured are real, they show that Apple moved the mute button down slightly to accommodate one of the antenna separation gaps. Both the iPhone 5 and iPhone 4 have SIM card slots in the same place. Like AT&T's GSM network, the Verizon LTE network will require a SIM card. Apple could be launching the Verizon iPhone with LTE capabilities, or launching a dual-mode iPhone that works with several different carriers.
There is also a possibility that newly manufactured iPhone 4 models are getting an updated antenna design, however given Apple's history this is less likely. Although the iPhone 3GS improved dramatically on the iPhone 3G, both devices kept the same shape. Apple may keep the basic iPhone 4 design for another product cycle while upgrading internal components such as the processor.
Apple Insider linked to a video from one of the parts suppliers that showed several alleged iPhone 5 parts, however the video has been pulled down due to a copyright claim by Apple.