Submitted by Fred Straker on
Imagine a future where the Apple TV streams content via AirPlay to mobile devices. An Apple patent titled "Displaying a synchronized instance of content on a portable electronic device" explains this very process in detail. Normally, content is sent from an AirPlay enabled app on an iPhone, iPad or iPod touch to the Apple TV.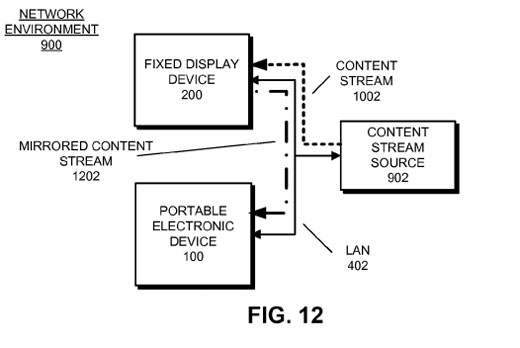 The patent explains the reverse of this process, with a fixed display system such as the Apple TV feeding synchronized content to the portable device. The iOS device viewing the content would automatically determine if the content being streamed is compatible and can be viewed. If so, the content would be synchronized and delivered via AirPlay on a Wi-Fi network. What's more interesting is the possible scenarios that make this functionality useful.
During operation, a group of people may sit in a room with the fixed display system and begin watching a movie or other content. Then, during the viewing when someone decides to leave the room (e.g., to prepare a snack), the other viewers must either pause the viewing while they all wait for the departed viewer to return, or let the presentation continue and the returning viewer may miss some of the presentation.
Patent number 8,918,822 seeks to alleviate this first world problem by automatically making the content available for the person who left the room. As the snack is prepared, this person can continue to watch the movie on their iPhone or other mobile device without interruption. When returning to the rest of the group with the snack, the presentation continues uninterrupted and everyone in the room remains on the same page.
Of course, the patent is not limited to iOS devices, Apple TV, or AirPlay in its embodiments. Various mobile devices, fixed position devices, consoles, content types and operating systems are mentioned in the text. While the concept could easily be added to existing AirPlay functionality,
AppleInsider
notes that streaming to various unregistered devices may run afoul of agreements with content owners.
Stay tuned to see if reverse AirPlay mirroring comes to fruition in iOS 9 later this year.