Apple (NASDAQ: AAPL) today announced that its App Store broke sales records during the first week of 2015. Details of its banner 2014 were released as well.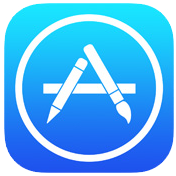 New Year's day proved to be the App Store's biggest day in its history and, with around half a billion dollars generated by app and in-app purchases, the week that followed was a record breaker as well. 2014 saw a 50% increase in app sales, which resulted in $10 billion in revenue for developers. Apple SVP of Internet Software and Services, Eddy Cue, praised the developer community: "We're so proud of the creativity and innovation developers bring to the apps they create for iOS users and that the developer community has now earned over $25 billion." $25 billion is the total revenue for developers since the App Store opened in 2008, which means the app market is growing at a tremendous rate, as last year's revenue alone represents 40% of the total.
Apple attributes the success to iOS 8 and Swift, its new programming language for app development that was introduced at last year's WWDC. Metal, a graphics technology intended to maximize the A7 and A8 chips' performance, was also introduced last year and further inspired developers. The HealthKit and HomeKit frameworks boosted new app development as well.
There are currently around 1.4 million apps available for iOS devices, with about half of those designed specifically for iPad.