After spending most of December fluctuating on almost a daily basis, Apple (NASDAQ: AAPL) stock saw five consecutive positive days for its first full week of trading in the new year. The share price opened last Monday at $106.25 and closed the week at $112.01. Stocks surged $4.14 on Thursday, almost 4%. It seems the fluctuations are persist however, as the share price is currently down 2.4%. Apple will announce its Q1 fiscal 2015 earnings on Tuesday, January 27th 5 PM ET.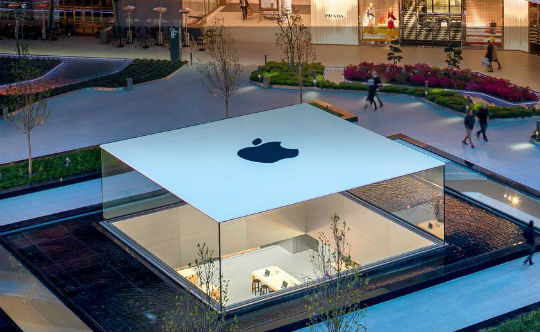 Despite the recent roller coaster, analysts are still bullish about Apple's holiday quarter sales. Investment firm UBS notified its clients last week that it believes Apple may have sold upwards of 69 million iPhones in the December quarter. This would outstrip the Wall Street consensus of 65.5 million sales and would make for a record breaking quarter for Apple.
The App Store has done some record breaking of its own recently. Apple last week announced that, with nearly half a billion dollars in sales, the first week of 2015 was a record breaker. New Year's Day proved to be the App Store's top grossing day of all time. It was also revealed that app and in-app purchases were up 50% in 2014.
In a note to investors provided to AppleInsider, Evercore analyst Rob Cihra predicted that the Apple Watch will launch some time in March at an average price of $500. He believes it will add 4% to Apple's 2015 revenue and account for 36% of the company's growth over 2014.
9to5Mac's
sources concur with Cihra. According to them, Apple will hold Apple Watch training sessions between February 9th and 16th, then launch the watch in March. Their rumors indicate there will be a $500 standard model made of stainless steel and sapphire crystal.
Audio equipment maker Monster filed suit against Apple's Beats Electronics last week, claiming that the Beats headphones technology was developed in partnership with Monster, and Dr. Dre and Jimmy Iovine fraudulently acquired it and cut Monster out through a "sham transaction" with HTC.
On a brighter note, a California judge dismissed a lawsuit against Apple that claimed the company defrauded customers by knowingly selling MacBooks with defective logic boards.
The ever-growing list of Apple Pay supporters added eight more financial institutions last week, including one of the nation's biggest credit unions, the Security Service Federal Credit Union. The partnerships could bring as many as 2 million more customers to the mobile payment service.
It was confirmed last week that Apple has hired former Hewlett Packard exec, John Solomon to a position in corporate sales. Apple didn't elaborate on his role, but it is thought that he will oversee sales to large corporations and government agencies. It is also rumored that he may be involved with international sales of the Apple Watch.