Submitted by Marshall Walker on
While Apple fans wait for the Apple Watch to start shipping in April, Samsung fans will get their first look at the South Korean giant's new handset on March 1st. Samsung sent out invites for its yearly Unpacked event, which will take place in Barcelona, Spain during the Mobile World Congress.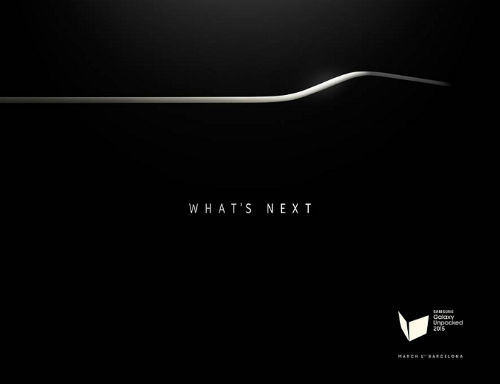 The all black invite features the profile of a curved device and the tagline "What's Next". The invite doesn't specify what Samsung will unpack at the press conference, but rumors have pointed to the company unveiling two devices -- the Galaxy S6 and Galaxy S6 Edge.
The Galaxy S6 is expected to be a significant upgrade from its predecessor the Galaxy S5. The new handset is rumored to be 50% faster and sport a 5.1-inch Quad HD Super AMOLED display. Other rumored specs include a 20-megapixel camera, built-in wireless charging, NFC payments and up to 128GB of storage.
The Galaxy S6 Edge will feature two edge displays on its sides similar to the Galaxy Note Edge. This design allows users to keep their home screens uncluttered by pushing apps to the side of the display which wraps around the phone. Or as Samsung puts it, "the beautifully curved edge expands user's own creative space" and "gives a fluidic and infinite experience." The Edge is expected to retail for around $749 to $849 unlocked in the US.