Submitted by Anders Batten on
Though it would have been better if SpoofApp had been around for April Fools' Day, there's still plenty of uses we can think of to fake (or "spoof") your caller ID. Yes, most of these are for reasons involving practical jokes. Not all, though, there are definitely legitimate uses for spoofing your caller ID -- everything ranging from conducting business from the road to checking in on your kids. So, when one of our readers wrote in about SpoofApp, we thought we'd spread the word.
SpoofApp is a native application for the Apple iPhone that lets callers pretend they are calling from a phone number other than the one they are actually calling from. It's dead simple to use, also. Once you've installed SpoofApp, you simply enter your Spoof Card details, the number you want to call, and the number you want to appear you're calling from -- and hit "Call". The person receiving the call will see the incoming call from whatever number you specified!
Here are a few suggested uses:
1) Think your boyfriend/girlfriend is cheating on you? Call from the suspected mistress' phone number and see how he answers the phone.
2) Want to check in on your kids, but don't want them dodging your calls? Call from a number you know they'll answer.
3) One of your co-workers avoiding your calls? Call from the boss' number.
4) Call a landline from popular known phone numbers and have the receiver see the name displayed with the number.
Your ideas are probably better than mine. But, play nice!
Anyway, to use SpoofApp, you have to do two things: 1) install SpoofApp and 2) get a SpoofCard with minutes (yes, this isn't free, although it is very inexpensive).
Here are some brief instructions on how to install SpoofApp via Installer (from SpoofApp.com).
1) Launch Installer
2) Install Jiggy Runtime from the Development category
3) Install SpoofApp from the Toys category
4) Launch SpoofApp and press the Settings button at the top
5) Enter your Spoof Card details
6) Enter the number you want to call and the ID you want to fake and hit Call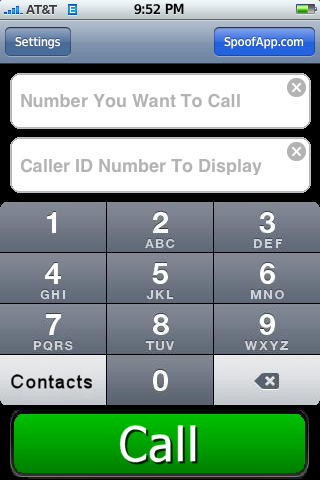 The Spoof Card also lets you change your voice and disguise it as a man, a woman. Have fun, and remember, don't do anything you wouldn't want someone to do to you.
You can buy a Spoof Card and minutes and get your Spoof Card PIN number by clicking here.