Submitted by Thomas Estilow on
Now you can record videos on the original (2G) iPhone and iPhone 3G without jailbreaking. Camera Plus Pro enhances the photography experience on any iPhone running OS 3.1 or later.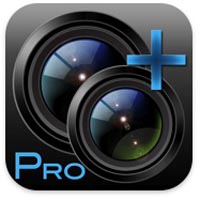 Many iPhone owners were disappointed that firmware 3.0 only supported video recording on the iPhone 3GS. Now thanks to Global Delight Technologies anyone with an iPhone can record and share video.
Camera Plus Pro is available on the App Store for a limited time at 33% off regular price ($1.99). The app comes loaded with video recording, photo taking and photo editing features including:
- Video Recording: Record high quality videos on your 2G, 3G and 3GS
- Geo-Tagging: Add, Edit, View and Upload your photos and videos with Geo-tags
- Slide-show: View photos & videos in Fullscreen, apply Lock, Delete, view the Geo-Tag, Share or Sync
- Quick Roll: Your local Photo & Video Library within the app
- Point Zoom: Zoom to a particular point with precision
- Shooting modes: Burst Mode, Timed capture, Big Button, Anti-Shake, Gridlines for quality snapping
- Editing capabilities: Apply multilevel Flash, Crop, Filters, Adjust, Rotate or Flip your photos
- Photo Lock: Set password and hide the private photos & videos from prying eyes
- Tags: Apply Tags for a quick search and easy photo & video management
- Sync: Sync your photos & videos from the Quick Roll to the Photo Library
- Share: Photos & Videos to YouTube, Facebook, Picasa, Flickr & Twitter or via Mail
- Select Resolution: Choose between original, medium or low resolution sizes when taking photos with an iPhone 3GS or 3G