Submitted by Fred Straker on
Apple has officially opened the iWork suite of productivity software to anyone with an updated web browser. Ownership of a Mac or iOS device is not required to create an iCloud account. Once the user has an Apple ID, the web-based versions of Pages, Numbers and Keynote are free along with 1GB of iCloud storage to save related files.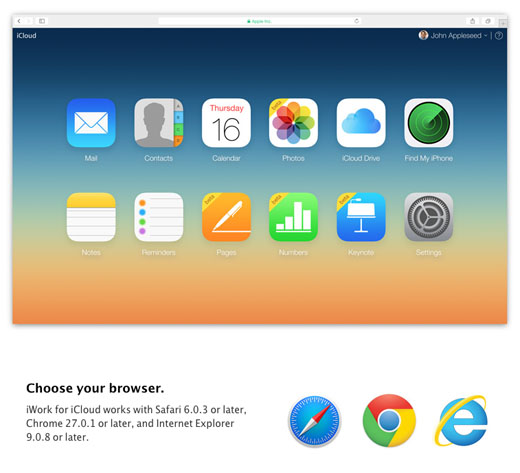 iWork for iCloud was first launched in 2013 for beta testing, and later extended to all users with an Apple ID. Creating an Apple ID at www.icloud.com is as simple as clicking the text "Create one now" at the bottom of the sign in page. Users will need to enter a name, email address, date of birth and security questions for password protection.
As Apple explains on the iWork for iCloud page, since documents are stored in worked on directly in iCloud, they are always up to date across all devices. This includes Mac computers, iOS devices, and Windows machines accessing iWork through a web browser. Pages is Apple's take on a word processor with graphics tools, Numbers generates spreadsheets and charts, and Keynote assembles presentations. The entire iWork for iCloud suite is fully compatible with Microsoft Office documents.
Apple describes the iWork for iCloud suite as responding "so quickly and fluidly that you may forget you're working on the web". When it comes to browsers, Safari 6.0.3, Chrome 27.0.1 and Internet Explorer 9.0.8 are minimum requirements. Cloud services and browser-based software have been all the rage lately, and Apple is competing against the likes of Microsoft Office 365 and Google Drive. The move to invite non-Apple device owners to use iCloud is a significant one.