Submitted by Marshall Walker on
The unauthorized biography of Apple co-founder Steve Jobs is now available in various formats on Amazon.com and the iBooks Store. The new book written by Brent Schlender and Rick Tetzeli has been endorsed by Apple, unlike Walter Isaacson's biography, which Apple CEO Tim Cook said did a "tremendous disservice" to Jobs.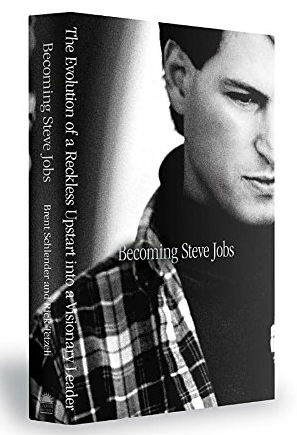 Eddy Cue, Apple's chief of software and Internet services, tweeted his approval of the biography last week, and Apple promoted it on the official iBooks Twitter account when it was released on Tuesday.
The book titled Becoming Steve Jobs details the personal and professional life of Jobs before his death in 2011 due to complications with pancreatic cancer. In an interview The New York Times the authors said they thought they could "create a picture of [Jobs] that was different from anything that was out there," when asked why they thought another book about the Apple chief was necessary.
Drawing on incredible and sometimes exclusive access, Schlender and Tetzeli tell a different story of a real human being who wrestled with his failings and learned to maximize his strengths over time. Their rich, compelling narrative is filled with stories never told before from the people who knew Jobs best, and who decided to open up to the authors, including his family, former inner circle executives, and top people at Apple, Pixar and Disney, most notably Tim Cook, Jony Ive, Eddy Cue, Ed Catmull, John Lasseter, Robert Iger and many others. In addition, Brent knew Jobs personally for 25 years and draws upon his many interviews with him, on and off the record, in writing the book. He and Rick humanize the man and explain, rather than simply describe, his behavior. Along the way, the book provides rich context about the technology revolution we all have lived through, and the ways in which Jobs changed our world.
Becoming Steve Jobs: The Evolution of a Reckless Upstart into a Visionary Leader is available in hardcover, paperback, eBook through the the Kindle and iBooks stores and as an audio book through Amazon's Audible service.