Submitted by Marshall Walker on
It's official, Apple will unveil its next generation iPhone on September 10th at 10 a.m PT at its headquarters in Cupertino, California. This year's invite reads: "This should brighten everyone's day." The tagline is surrounded by colorful dots that are reminiscent of Apple's upcoming redesigned iOS 7 icons. The official invites were sent out one day before Samsung plans to announce several new products including a possible new smartwatch.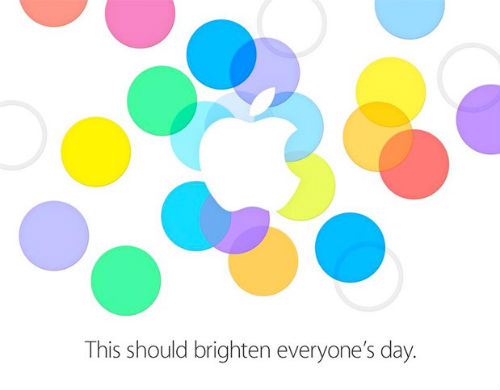 Apple is expected to announce the successor to the iPhone 5 called the iPhone 5S, along with a low-cost device dubbed the iPhone 5C. The next-generation iPhone is rumored to be getting a gold variant, while the new low-cost iPhone will be available in a wide array of colors. Rumored iPhone 5S specs include a faster A7 chip, a new sapphire Home button with a built-in fingerprint sensor and an improved 13MP camera.
Leaked iPhone 5C parts have been seen in black, white, pink, yellow, blue and red. Some analysts believe the new device will be priced at around $100 to $149, and could exclude some features like Siri. It is also believed that the iPhone 5C could replace the iPhone 4S in Apple's 2014 iPhone lineup.
Both the iPhone 5S and iPhone 5C are expected to go on sale around September 20th. This is also the date Apple is expected to begin rolling out its new operating system. iOS 7 is radically different than the previous versions, and includes a whole new look and feel, plus plenty of never before seen features