Submitted by Fred Straker on
Now that review units have been sent to the media, the first Apple Watch unboxing videos have surfaced. Just as with any new Apple product, it's time for photos and analysis of the packaging surrounding the latest device. Apple Watch is the first iOS-based device to focus on fashion, and it ships ready to wear and use.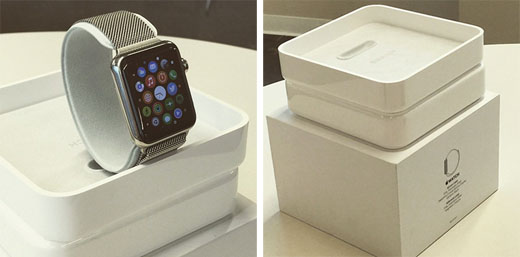 The outer box resembles Apple TV or Mac Mini packaging, which lifts off vertically. Inside, the Apple Watch is encased in a rounded case with slots to suspend the body of the device. The band has a retainer which keeps its shape, with the remaining contents of the box packaged in the bottom of the assembly.
Depending on which model is purchased, the Apple Watch comes with different contents in the box. Most models will ship with a magnetic charging cable, USB power adapter, band, and quick start guide. Apple Watch Sport comes with two different sized bands, while the Apple Watch Edition includes a special magnetic charging case.
The magnetic charging cable comes with a reusable, circular cable organizer that keeps the cord from tangling when in storage. Another surprise is that Apple Watch comes with a microfiber cleaning cloth, which can be used to wipe fingerprints and dirt off the display. At one time, Apple shipped many of its devices and iMacs with a cleaning cloth. Although several guided tours are available online, the quick start guide comes in a stylish folder and provides essential information on a paper brochure.
Apple Watch pre-orders begin at midnight Pacific time, and the device ships on April 24.