Submitted by Sammy Snyder on
Bandi Namco has teamed up with Sony Pictures Entertainment to release a mobile game based on the upcoming movie Pixels. The game will be a tower defense title where players need to defend Earth from an alien invasion.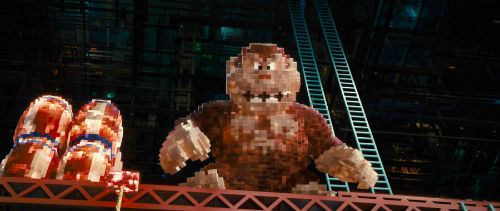 Pixels the movie stars Adam Sandler, Kevin James and Peter Dinklage as the Arcaders -- a group of heroes who must stop Earth from being destroyed by retro video games characters brought to life. Pixels the game promises to offer an "innovative twist on traditional tower defense game mechanics." In the game, players take on the role of the Arcaders to stop the aliens before they destroy the world. Pixels will mark the first time PAC-MAN, Q*bert, Frogger and other classic arcade characters will be featured in the same video game at the same time.
The game will launch launch for smartphones and tablets ahead of the theatrical release of Pixels on July 24, 2015. Pixels the game will be a free-to-play title.
Pixels Synopsis:
"When intergalactic aliens misinterpret video-feeds of classic arcade games as a declaration of war against them, they attack the Earth, using the games as models for their various assaults. President Will Cooper (James) has to call on his childhood best friend, '80s video game champion Sam Brenner (Sandler), now a home theater installer, to lead a team of old-school arcaders (Dinklage and Josh Gad) to defeat the aliens and save the planet. Joining them is Lt. Col. Violet Van Patten (Michelle Monaghan), a specialist supplying the arcaders with unique weapons to fight the aliens."
Pixels
is directed by Chris Columbus, and written by Tim Herlihy and Timothy Dowling. The film is based on the Short Film by Patrick Jean and produced by Adam Sandler, Chris Columbus, Mark Radcliffe, and Allen Covert.