Submitted by Rex Chamberlain on
It's an awful feeling when you get a message from your wireless carrier indicating you've gone over your data plan. Overage charges these days are outrageous and the process of calling customer support to see if they will give you a break is rarely worth the effort.
The iPhone has some impressive features that run in the background which can do things like sync information between devices, automatically update applications and so on. However, if you aren't careful those background activities can really take a bite out of your cellular data. Here are a few things you can do to ensure you never get one of those messages again.
Monitor your data usage
One of the best things you can do is monitor your data usage. All of the major wireless carriers have apps for the iPhone in the App Store which allow you to keep an eye on how much data you've gone through during your current billing cycle.
Once you download one of these apps, just log in to your account and you'll be able to view your data usage in the app. Most of these apps make it a breeze to monitor your data usage in real time and some even offer a widget you can access by swiping down from the top of the screen.
This is a great practice to keep your data usage in check and it allows you to see if there is some background activity blowing through your data.
Turn off cellular data usage for iCloud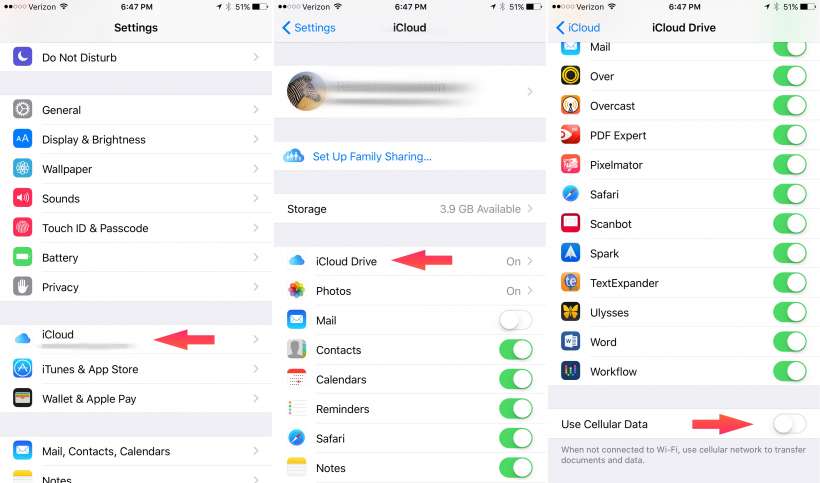 Apple's iCloud service has seen some tremendous improvement over the past few years. Many apps use iCloud to transfer and backup information. This can, however, use up your cellular data if iCloud syncing is not limited to Wi-Fi.
In order to make sure your iCloud information is not using your data, go to the Settings -> iCloud -> iCloud Drive. Scroll all the way to the bottom of the screen and you will see the "Use Cellular Data" option. Make sure it is turned off to limit iCloud syncing to Wi-Fi.
This will keep iCloud from using your cellular data and this will save you some battery too.
Disable background app refresh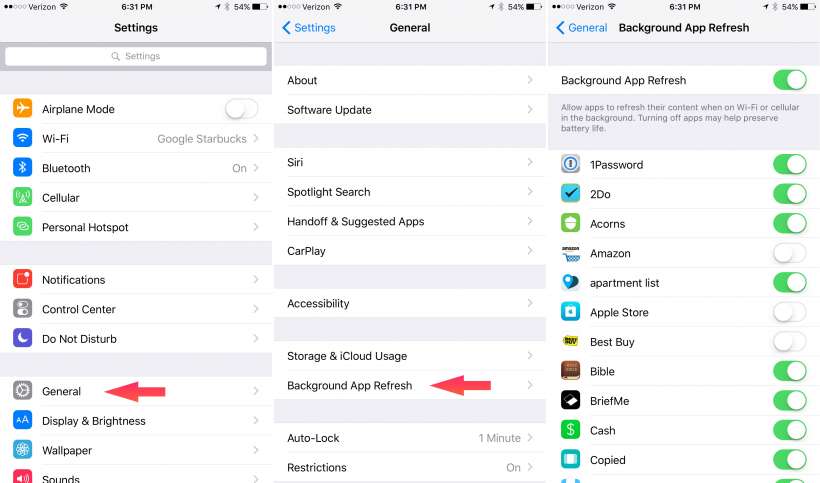 Many apps either do not offer iCloud sync or give you the choice to use another option to transfer and backup information. For example, apps like Dropbox regularly sync and backup files in the app. Again, this type of background activity can eat away at your cellular data.
To make sure Background App Refresh isn't using your data, go to Settings -> General -> Background App Refresh and here you can select which apps you want to turn off background app refresh for. There is no option here to allow background app refresh for only Wi-Fi, however, most apps have the option inside their own settings menu.
These are a few of the best ways you can cut down on your cellular data usage. Considering how high overage charges are these days, these tips could also save you a good deal of money over time.