Submitted by Matthew Byrd on
Ah, spring. Who doesn't love spring? The weather's nice, good fruit starts to come in season and your excuses not to get out there and start running become slimmer following a long winter indoors.
Ok, so not everyone may like that last one so much, but it is true that spring is an excellent time to get out there and start running. If you're one of many that comes to this conclusion every year but finds themselves disheartened after the first few runs, perhaps it's because you're not maximizing the potential of your smartphone as a running companion.
There are a ton of great apps out there designed to help make your run better and these may very well be the best.
Spotify (Free)
Running without music is a lot like eating a peanut butter and jelly sandwich without the bread. Unenjoyable and fundamentally wrong.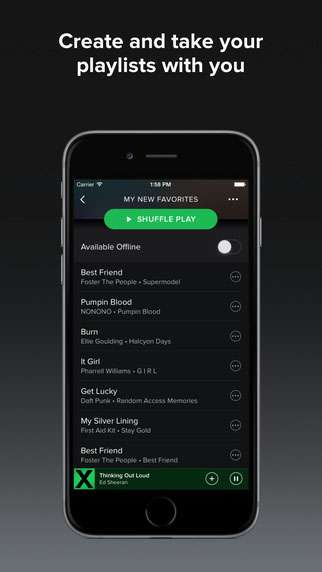 While Spotify's basic music service provides more than enough songs for any runner, the reason it deserves a special mention is because of the built-in running features. While in running mode, Spotify will keep track of your running pace and provide music that fits it.
It not only sounds cool, it actually works extremely well. Instead of laboring over a running playlist, give this great feature a shot.
Couch to 5K ($1.99)
There are quite a few apps out there geared towards aiding the experienced runner, but surprisingly there are far less high quality apps available built for the beginner.
Of course, that's probably because Couch to 5K already perfected the idea. Built around the idea of motivating you to complete your first successful 5K, this app is all about making sure you are able to stick to a series of escalating - but simple - workouts.
As your experience as a runner grows you may want something a little more in-depth, but this is the perfect app for new runners.
Nike+ Running (Free)
You need a run tracker if you're going to run. You may not think that you do, but there is a real benefit to being able to see your progress and efforts quantified in simple terms.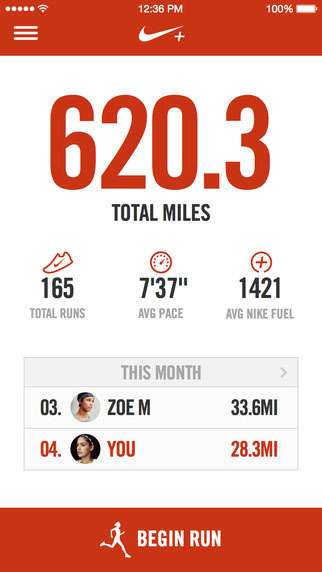 What makes Nike+ Running App such a standard is how simple it makes those terms. The Nike+ Running App covers nearly everything that you could ever want to know about your run and does it through an easy to understand series of visually pleasing screens.
There's a reason this app has become the standard bearer of run trackers and why it's the first one you should trust.
Zombies, Run (Free)
If you're not an experienced runner - or honestly even if you are - the prospect of going for a run can sometimes be a daunting one if the proper level of motivation just isn't there.
Zombies, Run guarantees that motivation by putting the user in creative scenarios within a zombie apocalypse. Only by maintaining your run can you hope to complete the game's various missions and of course survive the impending zombie horde.
Zombies, Run is a feature heavy app that smartly gamifies your run. Not only a great exercise companion, this game is pretty compelling in its own right.
Runkeeper (Free)
If your runs have been going well and you think that you're really ready to start taking things to marathon levels, you're going to need a tracker that is able to do as much as you.
From detailed statistics to training programs designed to get you ready for the most taxing of runs, Runkeeper is a fantastic tool for those who really wish to break down their efforts and build upon them. It's also an incredible social app that allows you to connect with thousands of users for motivation and advice.
Runkeeper is one of the oldest running apps out there and it has spent its years at the top of the list evolving to ensure that serious runners will find no better alternative.