Spotify allows both free and paid users to listen to already created playlists or create their own. A playlist is just a collection of songs that you can listen to at any time. You can create playlists by artists, genre or even based on an activity, like a playlist for your morning jog. Creating a playlist on your iOS device is very easy. Here's how:
First, tap the three bars in the upper left hand corner to open the menu screen and select Your Library.

Tap the Playlists panel then tap Edit in the top right hand corner.

Tap the + button and enter a name for your Playlist.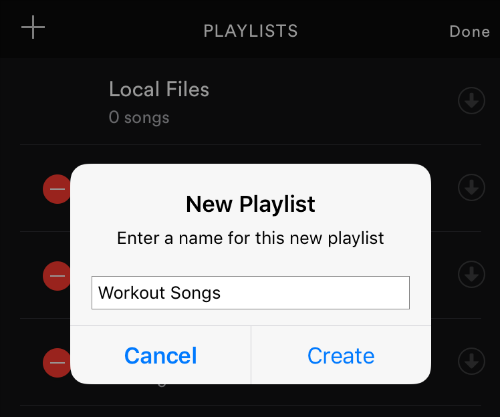 You can now begin adding songs to your playlists. If you plan on creating a bunch a playlists it is easier to create them all at once then begin adding songs. To add songs just search for the song or artist you're looking for, then tap the circle icon with three dots next to the title and select "Add to Playlist." This will bring up a list of your created playlists. Tap the playlist you want and the song will be added to your library.
Creating playlists on Spotify is one of the better ways to enjoy the music streaming service.