Summer is just around the corner and with it comes the opportunity to get out of the house and enjoy nature. Getting away from the city for weekend camping trips, day hikes, mountain biking, rafting, rock climbing or whatever floats your boat, is a great way to do that, and while you may know the most popular attractions nearby, there are undoubtedly many overlooked gems. Crowd sourcing, as we are learning, is a very powerful tool, so why not apply it while deciding on what to do for your summer recreation (not to mention fall, winter and spring). Here are a few apps that will let you tap into others' experiences to find the perfect fit for you:
Yonder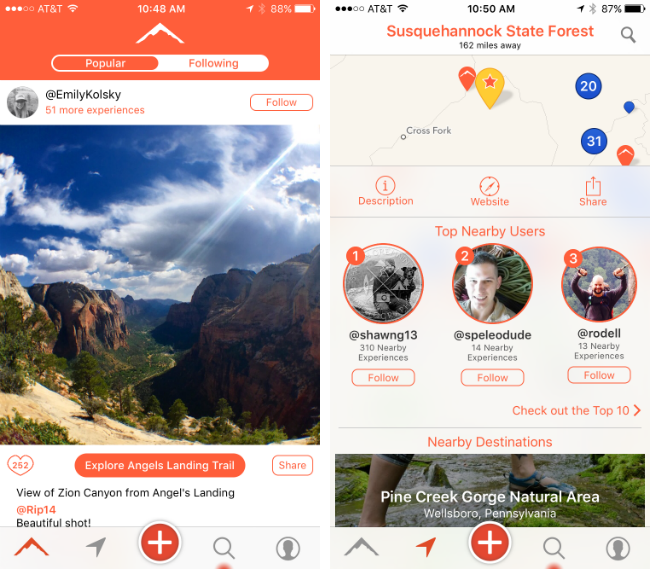 Yonder is a social media hub for outdoor enthusiasts. Upon signing up you create a profile and then you can follow other "Yonderers" and view their experiences as well as share your own adventures. The real utility of this app lies in the search function, which allows you to explore nearby or far away destinations on a map. Simply tap on the map icons to see pictures and read feedback from other Yonderers who have been there. Additionally, the app will give you information about the destination and a link to its official website if one exists. You can also search Yonder by activity through its hashtags, for example you can search #kayaking, #hiking, #climbing, etc. It is easy to use and has loads of information to help you select a simple weekend getaway or a lengthy backcountry adventure. Yonder is free for download and there are no in-app purchases.
The Outbound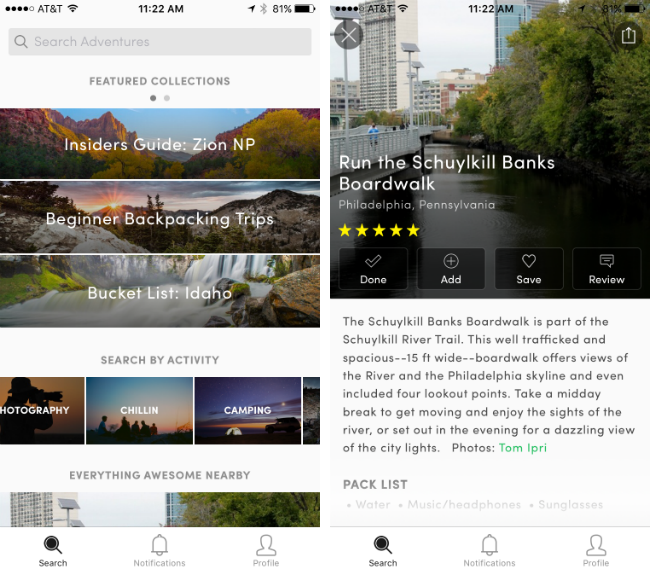 The Outbound is another app that will help you find local or far away recreational spots, but without the social media vibe of Yonder. Search by location or activity and you will find plenty of information about destinations including descriptions, skill level, best season, available activities, route type (always important in planning to know whether you are on a point-to-point trail or a loop), features (dog-friendly?, food nearby?, etc.), mileage and recommended pack lists. You can filter your searches by activity, features, skill level and season, which makes finding your ideal spot a whole lot easier. Members can rate and review destinations, but can't share their own photos and videos. The Outbound is free for download and has no in-app purchases.
Alltrails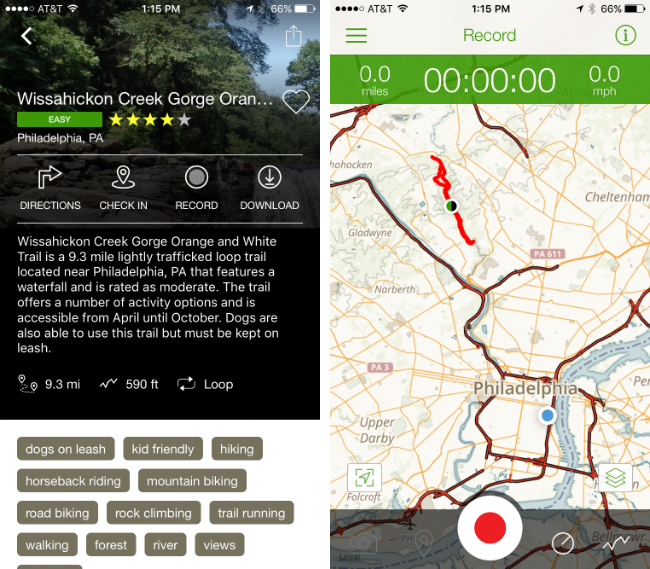 Alltrails is geared towards hiking, mountain biking and camping - all activities that revolve around trails. The app boasts over 50,000 trail maps "curated by 3 million hikers, campers and mountain bikers." More than that, Alltrails provides tools that are useful while you are on your journey - it has a record feature that acts as a GPS tracker to show you your location on the trail and measure your elevation, pace, distance traveled and your max speed. You can rate and review any trail you take, and you can share your recorded information with other users. Viewing others' recorded information will give you a good idea of what you're getting into. Conveniently, Alltrails will also provide you with driving directions to the trailhead. Alltrails is free with a Pro upgrade (for a steep $29.99/year) that will let you download trail maps for offline use. It also allows you to customize and print maps with varying scales, topographical layers, grid lines and other features, plus it lets you create your own routes
Night Sky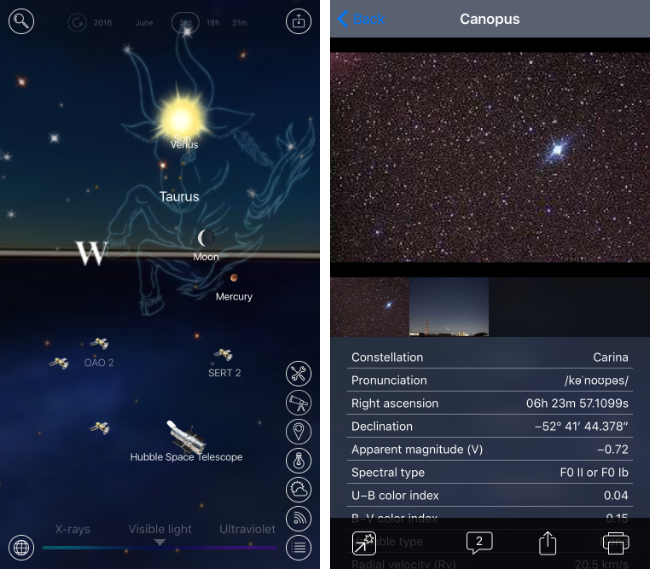 If you are camping out in the wilderness away from city lights, you would be doing yourself a disservice if you didn't do some stargazing. While it doesn't offer crowd sourced information like the others, Night Sky is the premiere app for the stargazing. Loaded with information, Night Sky allows you to simply hold your iPhone up to the sky (or even down to your feet) to identify stars, planets, satellites, constellations and the International Space Station and Hubble Telescope, all to the backdrop of a serene soundtrack. Tap on a planet or star to get photos of it, astronomical data and its history and relationship with various cultures. Tap on a satellite to find out who owns it, when it was launched and its orbital path. You can also search for objects and the app will guide you to them. The app provides stargazing conditions for the upcoming week as well. Night Sky costs $.99 and is well worth it if you are interested in the firmament. For $2.99 you can upgrade to Pro and unlock a plethora of features, including the locations of deep sky objects and the ability to see what will be in the sky at future dates.