Submitted by Fred Straker on
September 7th is only a week away, but this hasn't stopped a fast and furious torrent of iPhone 7 rumors and leaks. The latest reports touch on cosmetics, storage space, and more. Apple's next generation iPhone is not expected to be a radical departure from the current model. But this doesn't mean the company has no surprises waiting in the wings. The past few days have confirmed several tidbits coming in the official announcement next week.
Wireless AirPods
The removal of the 3.5mm headphone jack has been in the news for some time. Apple has also been rumored to be working on its own Bluetooth in-ear headphone solution. Now a series of regulatory filings published by the Eurasian Economic Commission highlight Apple-branded AirPods as a new product coming our way. These headphones are listed independently of new Beats-branded headphones. Also appearing in the list: new Apple Watch models and the iPhone 7 and iPhone 7 Plus.
Increased storage
Previous reports have pointed to a 256GB maximum storage capacity, at least on the iPhone 7 Plus. Now a
factory leak appears to confirm
that the entry-level iPhone 7 will be offered with 32 GB of storage.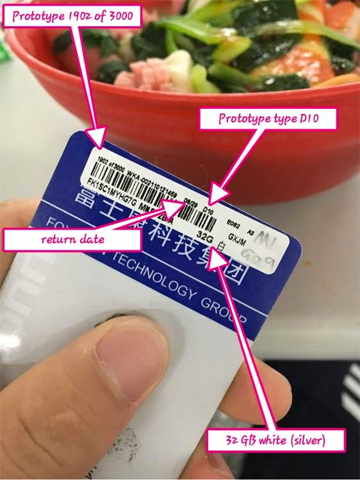 This doubles the 16 GB level that has been the starting point for the iPhone 6s. The latest version of iOS along with 4K video recording, higher resolution photos, and more demanding apps have decimated storage space quotas on smaller capacity devices.
More colors
Over the months, several leaked images and rumors have hinted at revised color options for the iPhone 7 and iPhone 7 Plus. A new leak from Japanese blog Macotakara seems to confirm that Apple will offer the iPhone 7 in a total of five different colors.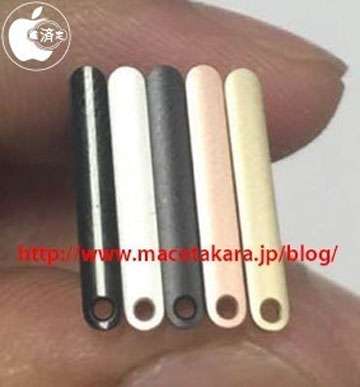 The new space gray would be a darker color, much like the Space Black offered on the Apple Watch. This darker gray also harkens back to the iPhone 5. In addition to silver, rose gold, gold and space gray, the SIM card trays leaked above show a gloss black color that matches the Mac Pro.
Other reports have shown a metallic blue color, which is not shown here but could be offered with the iPhone 7 Plus.