Submitted by Fred Straker on
The iPhone 7 teardown from iFixit has arrived. This exercise reveals the inner workings of Apple's latest smartphone, as well as the engineering that went into waterproofing the iPhone design. Not only this, but the teardown answers one of the biggest questions: what did Apple replace the 3.5mm headphone jack with? Many assumed a secondary audio speaker would be placed behind the new grille, however this is not the case.
The iPhone 7 features stereo speakers thanks to an upgraded earphone speaker. In other words, when the earpiece is not being used for phone calls, it operates just like the main speaker on the bottom. With both of these speakers pumping out stereo sound, the volume is doubled compared to the iPhone 6s.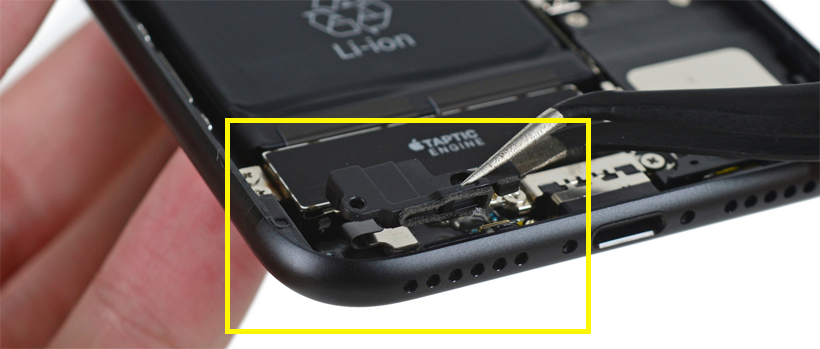 Back to the space where the 3.5mm jack once resided, the iPhone 7 actually has a barometric valve connected to the left-side grille. This serves to equalize internal and external pressures, ensuring that the device can properly measure altitude. iFixit explains that this plastic baffle is needed due to the iPhone 7 waterproofing, which seals out liquid and dust.
In addition to the barometric valve, Apple has used the space for a larger version of the Taptic Engine. The upgraded unit provides stronger haptic feedback in conjunction with the redesigned capacitive touch home button. Gone are the days of a mechanical home button that actually moves and clicks. The iPhone 7 features a waterproof home button that operates much like the touch screen display.
Most of the other highlights of the iFixit teardown revolve around keeping water out of the iPhone 7. For example, the SIM eject hole now utilizes a two-step mechanical process, with a plastic pin pressing a metal pin which ejects the tray. Gaskets and adhesive are used throughout the device where needed, and a specially designed speaker duct and grille prevents water from intruding.
Check out the full iPhone 7 teardown at iFixit, or check out their teardown of the iPhone 7 Plus.