Submitted by Bob Bhatnagar on
No more calling or driving around to the Apple stores in your area to hunt down an iPhone 3GS. After over a million units of Apple's latest model have already sold, the company has released an online tool so interested buyers can check current inventory themselves.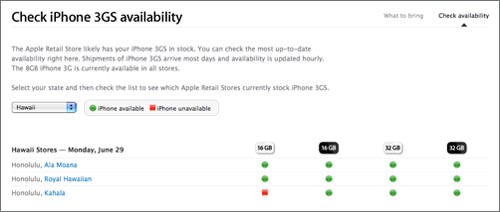 The latest version of Apple's online inventory tool should be updated hourly, which is an improvement over tools released for earlier iPhone models. The company previously updated in-store inventories of iPhone and iPhone 3G units only once daily.
Currently, the Apple stores are well stocked, with white and black models of the iPhone 3GS widely available in both 16GB and 32GB versions.
The Check iPhone 3GS availability page only provides information about iPhone 3GS inventory at Apple retail stores, and does not include the iPhone 3G.
Of course, despite the best intentions of Apple and its employees to keep the system updated, this tool only connects to a database. To be sure your iPhone 3GS is actually where it's supposed to be, we recommend calling to verify current stock with a representative at your local store.