The Graphics Interchange Format, aka GIF, celebrated its 30th anniversary this week and Facebook took note. The social media giant announced that it would honor the format by sharing some details of the GIF's history on Messenger, making GIFs available in comments for everybody in the main Facebook app and throwing a "GIF party" by introducing a bunch of new GIFs featuring popular internet personalities.
GIFs have proven wildly popular in Facebook Messenger, where they were introduced in 2015. The number of GIFs sent on Messenger tripled last year to 13 billion, or about 25,000 per minute. They peaked on New Year's Day with 400 million GIF sends. The apparent popularity prompted Facebook to make GIFs available on comments in its main app.
To add an animated GIF to a comment on the iOS app, just comment as you normally would and tap the GIF icon on the right side of the comment bar. A row of GIFs will pop up that you can choose from, or you can search for specific themes in the search bar below.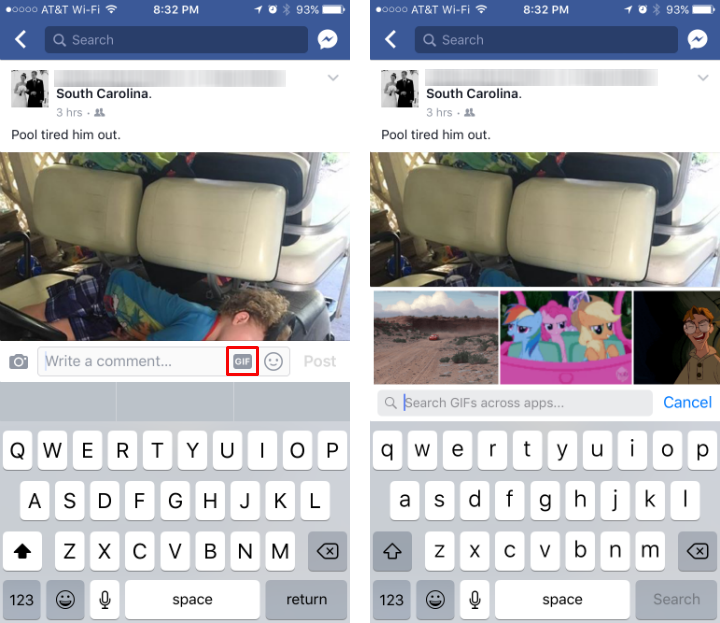 Additionally, in an attempt to put the age old question to rest, Facebook will be polling U.S. users over the next few days about the pronunciation of "GIF" - is it a hard 'g' or soft, like "jiff?" You'll be able to find the poll by going to Facebook's page and scrolling down till you see it. In the app, search for Facebook then tap on it under "Pages."