Submitted by Thomas Estilow on
Reports have surfaced that unlocking your iPhone for use with another carrier will disable application push notifications. There is some debate over whether or not Apple is simply ignoring the problem, or if it's something they intend to fix in the near future.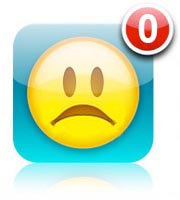 The problem was discovered by PoweryBase, the developer of a push-enabled "to do" list application called NotifyMe. According to the developer, five percent of users (those with unlocked iPhones) generate 80 percent of their customer service requests, claiming the app doesn't work as advertised. These dissatisfied users are also driving NotifyMe App Store ratings down.
PoweryBase, of course, has no control over Apple's push notification servers or unlocking users' devices. They describe the problem in detail:
According to technical documentation, every push application has to request the unique token from Apple's APNS servers to identify the device it's running on. Thanks to that token, APNS servers always know which device is yours. The token can be understood as an IP address, the server has to know where to send the notification and for which application. APNS can also change your token regularly for higher reliability, so it's critical that the application requests the token again on every start (or when enabling the push feature) to replace the old one if new token is forced by APNS.
On any unlocked iPhone, the application requesting the token is stuck. APNS does not provide any response at all and the application can either cancel the request completely by automatic timeout or let user wait with the progress bar forever. Either way, the user will never receive any push message, because APNS has not provided the token.
Unlocked iPhones are also known as "hacktivated" iPhones. Apparently, the iPhone Dev-Team is already working on a fix for this problem.
The Dev-Team has already released a package called Push Fix, available via Cydia. This package is designed to activate push notifications on unlocked first-generation iPhones running iPhone OS 3.0.
Push notifications allow iPhone applications to receive updates when they are not running, such as news headlines or instant messages.