Submitted by Bob Bhatnagar on
Surprise! The popular iPhone app Yelp has a secret feature that overlays nearby points of interest on live video of your surroundings. This augmented reality feature is available in Yelp version 3.0.0 on iPhone 3GS.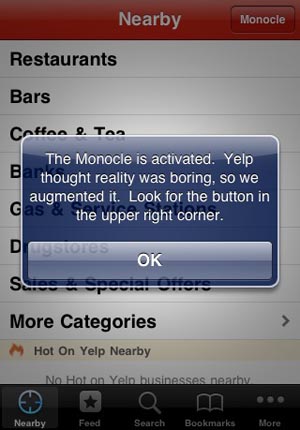 To turn on the feature, called Monocle, make sure "Location Services" are ON. Launch Yelp and select the "Nearby" screen from the bottom menu. Now gently twist or shake the iPhone a few times until the dialog box stating "The Monocle is activated" appears.
Tap OK and you'll notice a new "Monocle" button in the upper right corner of the "Nearby" screen. To see Yelp's augmented reality features just touch this button.
The Monocle allows you to switch between bars, restaurants and listings for everything. In the upper right hand corner a radar-style miniature map appears to show points of interest surrounding your iPhone 3GS. In the middle of the screen you will see names and ratings of the closest places floating over real-time video of your surroundings.
This only works with iPhone 3GS running OS 3.0 since it requires a digital compass, GPS, an Internet connection and the videocamera to function properly.
More features of Yelp:
- Search for businesses near you using the iPhone's built-in location finder
- Narrow your searches by neighborhood, distance, price and what's open now
- Browse reviews
- Add quick tips, photos and draft reviews for your favorite businesses
- Look up addresses and phone numbers for thousands of businesses, then call or map them from your iPhone