Submitted by Thomas Estilow on
Apparently if you have an iPhone 3GS and you're looking for the nearest burger in Paris you're in luck. Presselite has released their 99 cent iPhone application, Metro Paris Subway.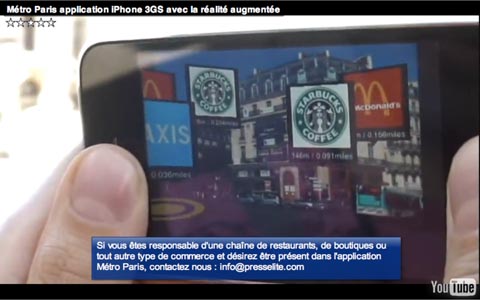 It allows iPhone users to view many points of interest, including metro and bus stations, superimposed over live video of current surroundings. Just a month ago we explored a video of the prototype NYC version of a similar augmented reality application.
The software uses an ingenious combination of the iPhone 3GS digital compass, GPS, live video and Internet connectivity to deliver real-time data intuitively.
Holding the iPhone 3GS horizontal will show arrows pointing to different train stops, and tilting the device upwards will overlay signs in the direction of different stops. These signs look like a heads-up-display, and give more information about how far away the station is and what lines connect there.
The same applies to the nearest points of interest (POIs) such as those in the screenshot above: McDonald's, taxi stands and Starbucks coffee locations. You may be in Paris, but don't forget the iPhone was designed by Apple in California, U-S-A.
Other non-transport points of interest currently included in the list include KFC, Pizza Hut, Ben & Jerry's, Subway, Best Western, and many more. Hopefully in the future there will be a POI category besides "US Interstate Highway Rest Stop" to browse for eateries in Paris.
Previous reports speculated that augmented reality applications on the iPhone would have to wait for new features pending in the release of firmware 3.1. It would seem this is not the case, even though the apps Nearest Tube and New York Nearest Subway from acrossair will not launch until iPhone OS 3.1 goes public.