Submitted by Marshall Walker on
It's been a long wait, but the fourth title in the popular tower defense series Kingdom Rush has finally arrived. Ironhide has done it again, turning out another 5-star action title full of fun characters, Easter eggs and more. Kingdom Rush Vengeance flips the script on the series by turning the player into the villain instead of the hero. The evil wizard Vez'nan has returned and he's gathering an army to take down the King of Linrea. Players must help Vez'nan rebuild his army as he marches to his revenge.
Vengeance is played just like the other Kingdom Rush titles. Players must use a combination of towers, foot soldiers and magic to stop advancing armies of knights, dwarves, elves and even farmers. The game retains its trademark humor and it is full of Easter eggs and achievements for players to discover.
My only complaint about Vengeance is that Ironhide has traded in difficulty for humor. Each new title in the Kingdom Rush series seems to be packed with more Easter eggs than its predecessor, but each new game also seems easier to complete. I was able to blow through Vengeance on Veteran while scoring 3-stars on every level except the final stage. Yes the game offers an Impossible setting, which I haven't yet tackled, but I remember the original Kingdom Rush being much harder to complete in its entirety. Earning all the stars and achievements on Kingdom Rush took work. You had to replay levels over and over until you got it right. Now earning all the stars just feels like a afterthought. Something that happens on the side while you complete the game. Kingdom Rush is known for its gameplay plus humor, not humor than gameplay.
While I hope the series can eventually correct itself, Vengeance is still a solid entry. What really saves the game is being able to unlock new towers and purchase and equip new items. Testing out the new towers is a lot of fun, and they cover up the fact that Vengeance is pretty easy to beat. You'll be so distracted by the new upgrades tree, over 50 achievements, 16 new towers, new heroes and new powers, that you won't care about the difficulty. And maybe that Impossible level will give me what I'm looking for, but who typically starts any game at the impossible setting?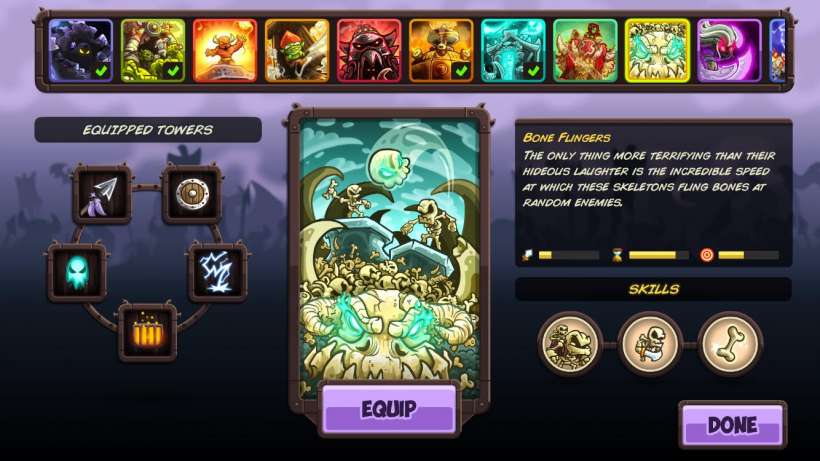 The towers are the star of
Vengeance
. Instead of deciding what type of tower you want when you upgrade, you choose 3 towers to equip before you start each level. There are 16 towers to choose from, and each come with their own unique powers. Being able to test a new tower on almost every level is what makes
Vengeance
a lot of fun. The tower designs are top notch. This is where Ironhide really excels. There are goblins strapped to rockets, goblins throwing boomerangs, skeletons, mausoleums with gargoyle guards and more. The creepy Halloween vibe with Ironhide's trademark goofiness is just too awesome not to love.
All the Kingdom Rush games are well made from top to bottom. Everything from the music, to sound effects, to level design are handled with care. Even each individual enemy is well designed and include unique abilities that add to the challenge of every level. Vengeance is no exception. It fits perfectly in the Kingdom Rush canon, and it is highly recommended to anyone who likes mobile games.
I personally look forward to see what Ironhide has planned in future updates. Hopefully a few new levels and at least 3 unlimited modes.
Kingdom Rush Vengeance is available for $4.99 on the Apple App Store.