Submitted by Bob Bhatnagar on
A patent application filed by Apple in August 2008 shows some novel ways to interact with the iPhone. Swiping over the camera lens and a series of taps on the back of the iPhone are described as a way to control voicemail playback while the iPhone is against the head.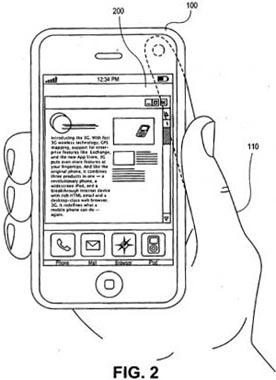 Holding the iPhone in the hand would make the camera lens react differently, controlling calling options or scrolling through contacts lists or web pages. Taps would be detected through an accelerometer inside the device.
These patents were filed right after the release of the iPhone 3G, giving Apple plenty of time to develop the software and hardware to execute these new interface concepts. It's possible the next generation iPhone will incorporate these features.
Several other patents have been revealed that would give users more options to interact with their iPhones if implemented. One such patent showed a touch-sensitive bezel around the front screen of the iPhone. Apple has also submitted patent applications that would make the back case of the iPhone respond to user input.
Several analysts have predicted that Apple will up the ante in the fourth-generation iPhone by adding new gesturing functionality and/or interface options to the iPhone hardware.