Submitted by Thomas Estilow on
The iPhone is about to get a new web browser. That is, if Apple approves Opera Mini for distribution in the App Store. Opera Software ASA has announced that an iPhone version of its efficient web browser will be submitted for approval very soon.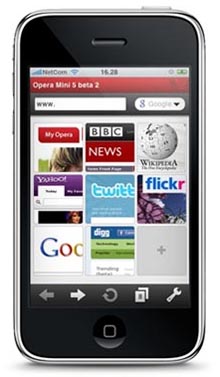 The project is said to be only weeks away from completion, and would bring Opera Mini to yet another mobile platform. The company has already released its software for Android, BlackBerry and Windows Mobile devices. In January, Opera Mini surpassed 50 million unique monthly users.
Opera Mini offers server-side compression, which reduces the size of web pages by up to 90 percent before loading them on your phone. This makes for remarkable speed in loading pages on a mobile device, and reduces data usage for those with bandwidth limits on their data plan.
Apple has previously stated that apps that duplicate a function already included in the iPhone software will be rejected. The iPhone comes shipped with Mobile Safari, a robust browser included in the iPhone operating system. For its part, Opera Software claims its browser might load pages faster, but it will not work well with more complicated tasks.
Although Opera Software has publicly announced its iPhone app, Apple hasn't commented on the product. Opera Software ASA is based in Norway and first released its Opera web browser in 1996.