Submitted by Bob Bhatnagar on
Kee Utility Incorporated will debut the Desk Phone Dock for iPhone in April at the China Sourcing Fair in Hong Kong. This slick device has an aluminum base and a USB port for syncing built into the rear cord. Just dock your iPhone and you have complete access to iPhone functions .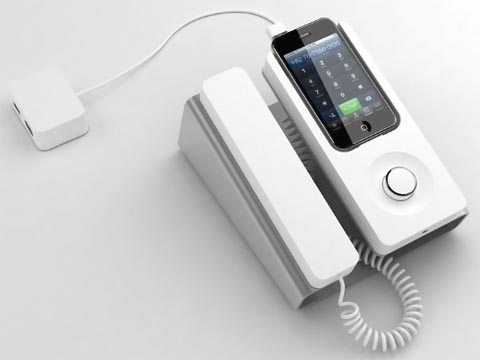 Browse contacts, listen to the iPod or Internet radio in stereo, and of course make phone calls. Use the corded receiver or built-in speakerphone. The dial is a mute button and volume control. Desk Phone Dock even charges your iPhone while it's docked so when you leave your desk the battery is ready for action.
Simply lifting or hanging up the Desk Phone Dock's magnetic handset will switch between the handset and speakerphone while on a call. A built-in 3.5 mm stereo headphone jack is also integrated into the dock so that iPhone earbuds (or any headphones) can be used with or without a microphone.
We imagine an additional benefit to the dock besides the comfort of a "real" old-fashioned phone on your ear during a long call includes extra distance from the cellular antenna. Radio waves will be emitted down on your desk and not next to your ear. This would certainly reduce SAR levels.
Assuming the Desk Phone Dock looks like the renderings and has the listed functionality, it will be an impressive and convenient combination of old and new technology. No word yet on pricing or actual release date.
[ Kee Utility ]