Submitted by Bob Bhatnagar on
Apple officially takes pre-orders for the iPhone 4 tomorrow, June 15. The device will ship on June 24 with iOS 4 and redesigned hardware. Pricing with a two-year AT&T Wireless service contract comes in at $199 for the 16GB model and $299 for 32GB. It's also possible to purchase the iPhone 4 without a contract but this adds $400 to the price.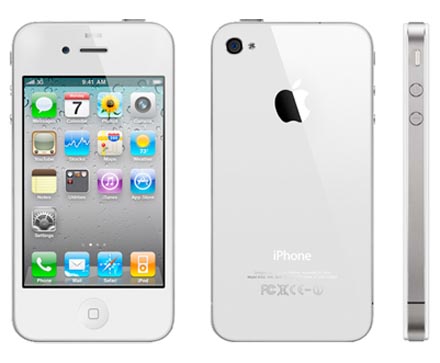 Pre-ordering will begin tomorrow in four countries, with 18 additional countries following in July. iPhone 4 can be pre-ordered from Apple Stores, Best Buy and Radio Shack. Pre-ordering will also be available online from Apple and AT&T. In addition to these locations, Wal-Mart will carry the iPhone 4 on launch day, June 24.
To find out if you're eligible for upgrade pricing with your existing AT&T contract you can login to your account online or simply dial *639# from your iPhone. AT&T will send a text message letting you know if you can upgrade at the fully subsidized price.
Those who are eligible will receive notice that a new 2-year commitment and an $18 upgrade fee gets them an iPhone 4 at the $199 or $299 price point. To get more information on the AT&T website navigate to the My Account tab and click Check Upgrade Options under Quick Links.
The data plan for the iPhone 4 is changing, with AT&T eliminating unlimited data plans entirely. AT&T is also adding support for tethering, which allows users to connect a laptop to the iPhone 4 and use their cellular data connection.
Existing iPhone customers with an unlimited data plan ($30 a month) will not have to choose one of the new plans. If you want to keep your unlimited data plan with the iPhone 4 you have the option.
The new monthly data plans are DataPlus (200 MB for $15) and DataPro (2 GB for $25). The tethering option is available, but it requires DataPro and costs an additional $20 per month. Apple first introduced this functionality with iPhone OS 3.0, however AT&T never implemented the feature.
Apple began offering iPhones for pre-order with the iPhone 3G. Now with the iPhone 4 launch, users can have the iPhone 4 shipped directly to their homes for activation on June 24. No more waiting in line or dealing with crowds at the store on launch day. Guarantee your iPhone 4 comes as soon as possible and pre-order tomorrow.