Submitted by Chad Shmukler on
Well, that didn't take long. Only hours into the iPhone 4 pre-order period, US pre-ordering is down. Whether you're attempting to pre-order through Apple or AT&T, for the time being, you're likely to find yourself unable to complete the process. What's the reason? Overload. As has happened multiple times in the past, either Apple, AT&T or both, underestimated the technical requirements necessary to handle demand for the iPhone.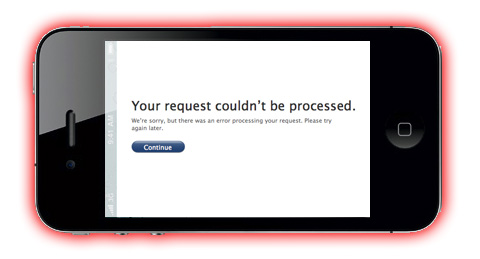 Many of you who have recently tried the Apple Online Store route have like found yourselves staring at a spinning cursor as the Apple store attempts to contact AT&T to determine your eligibility for an iPhone upgrade, which in turn determines the price that you'll be charged to complete your pre-order. Unfortunately, after what seems an eternity of staring at that spinning cursor, most are met with the message seen above, which apologetically informs you that "Your request couldn't be processed. We're sorry, but there was an error processing your request. Please try again later."
Attempting to pre-order directly from the AT&T website isn't offering any more pleasing results. After logging in and selecting a line to upgrade, customers are met with a somewhat less apologetic message stating "There was a problem with your request. P1015: We're sorry, but we are experiencing a system error that prevents us from completing your request. For non iPhone related upgrades, please call Customer Care at 1-888-867-4384 and provide the error number at the beginning of this message."
The somewhat curious part, though likely indicative of little, is that AT&T is able to conclusively determine and display your account eligibility only for the process to fail subsequently, while ordering through the online Apple store bottlenecks at the eligibility determination point of the process.
AT&T representatives have confirmed that their servers have become overloaded due to high demand and a higher than expected volume of consumers attempting to order the iPhone 4. Apparently Apple's hype machine has done it again.
Please share your pre-order experiences with others in the comments below. Were you an early-comer that successfully placed a pre-order earlier this morning? Have you been able to squeak an order through the volume backlogs? We'll keep updating you throughout the day as the situation develops. Good luck to all you iPhone 4 hopefuls out there.