Submitted by Marshall Walker on
Fans of Hungry Shark Attack and other fish-eating frenzy games will enjoy Zombie Fish Tank by Chillingo Ltd.. The game features top notch graphics, a fun storyline, plenty of fun characters, boss battles and achievements; it's pretty much everything you can ask for from a $0.99 iPhone game. I was originally worried that the tilt controls would make the gameplay annoying and difficult, but I was absolutely wrong. I was pleasantly surprised about how easy it is to navigate the crowded zombie infested aquarium by tilting my iPhone. You can even double tap the screen to calibrate the controls in case you set down your device, or change positions.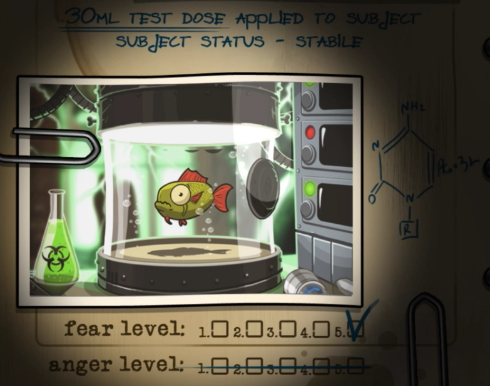 The game follows a small fish who is set on revenge after he is torn away from his girlfriend and transformed into the undead by mad scientists. Players must survive in harsh environments by eating smaller fish and toxic waste, all while avoiding being devoured by larger laboratory created monstrosities. You eventually work your way through various genetically altered bodies of water, such as the Toilet of Doom, until you reach the final stage.