Submitted by Chad Shmukler on
Don't let the name of iPhone hacker NateTrue's latest offering scare you away. Though you might think so from the name of it, "iBrickr" isn't designed to "brick" your iPhone. Instead, iBrickr is designed to provide easy-to-use, GUI-driven management of ringtones and third party applications for the iPhone.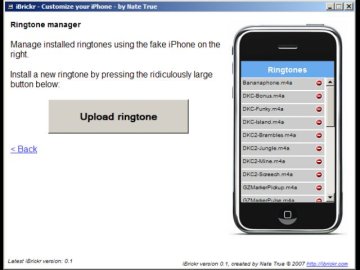 Of course, like all unauthorized iPhone software/hacks, there is some risk of having to restore or repair your iPhone. It's wise to understand the risks of modifying your iPhone before embarking on the task.
That said, for too long (yes, 1month is too long) the Mac faithful have had all kinds of cool tools - like iFuntastic and Installer.app - that make iPhone modding easy. On the other side of the aisle, the Windows folks have been left with iPhoneInterface or iPHUC and lots of command line hacking. Thanks to natetrue, Windows users now have a way to customize their iPhone that is, according to iBrickr's creator, "dead simple."
iBrickr offers advanced features such as custom sound management which allows users to modify system sounds such as keyboard clicks, lock/unlock, and more.
iBrickr is uses the PXL package format for third party iPhone applications. Installing new software on your iPhone (to be clear, these are software packages that run on the iPhone, not AJAX web applications) is as simple as downloading a PXL file for an application to your computer and installing it from the applications view in iBrickr.
iBrickr's website also hosts a repository for currently released iPhone applications in PXL format. Currently, there are about 30 applications in the repository, including games, utilities, eBooks, and more.
Perhaps one of the most attractive features of iBrickr is the support. Using the 'send error report' button within the application you can send an email identifiying your problem or question and get a response back directly from the developer(s).
Visit the iBrickr website to download the latest version (0.6).