Submitted by Frank Macey on
Remember the good old days, when services like Ping were abandoned after just 25 months? Apple must have set a new record by officially canceling iOS Cards service after only 23 months in operation. In case you missed it, September 10 was the last day to order and send a physical card using the Cards app.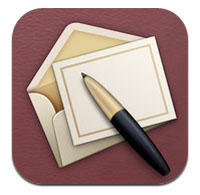 Cards service was first released in October 2011, along with the launch of the iPhone 4S and iOS 5. The app was a surprise announcement by Scott Forstall at the iPhone 4S media event. Users could choose from 21 template designs and add their own message and photos. Cards were sent for $2.99 with custom postage from the USPS, and paid for using an Apple ID.
Much like Ping promised to connect music lovers everywhere, Cards was intended to make it easy for iPhone owners to create and send personalized, cotton paper cards through the mail. After the announcement, greeting card makers' stock took a brief dive as Apple looked to threaten their business with Cards. Apparently, this ended up not being the case.
Cards had several interesting features, such as the ability to use location services when traveling to automatically generate a postcard. The app would also send notifications when a card was printed and mailed, keeping card senders up to date on their purchase. Apple has recommended iPhoto for those looking to create similar cards now that Cards has been discontinued.
The official word from Apple:
Cards ordered before 1 PM Pacific time on September 10, 2013, will be delivered, and push notifications will continue to work.
You can view your previous purchases by tapping Saved Cards in the app.
Note: You can still order beautiful letterpress cards customized with your photos and text using iPhoto on your Mac. Cards ordered through iPhoto are shipped through a carrier such as FedEx rather than through the United States Post Office.