Submitted by Anders Batten on
Apple is offering a free "Holiday Playlist" of eight songs to iPhone owners who use the Apple Store App. All iOS users can download the app for free from the App Store, but the free Holiday Playlist is only available through the iPhone version.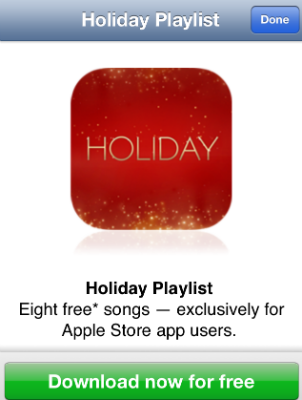 You can download the free playlist by opening the Apple Store App on your iPhone and scrolling down until you see the "Holiday Cheer" tab. Tap the "Download now for free" button and you will be taken to the redeem gift card section of iTunes. Just tap the "Redeem" button on the top right hand of your display and the playlist will automatically download to your phone.
Unfortunately the download does not actually create a "Holiday Playlist" in your Music app, so you'll have to create it on your own if you want them all in one place.
Apple's free Holiday Playlist includes:
Ave Maria by II Volio
Children Go Where I Send Thee by Nick Lowe
Duck The Halls by The Robertsons
Joy to The World by Celtic Woman
Silent Night by Kelly Clarkson
The Christmas Song (Chestnuts Roasting on an Open Fire) by Kool and the Gang
The First Noel by Mary J Blige
What Child Is This by Marvin Sapp