Submitted by Anders Batten on
Audio books are are a great way to catch up on all the books you want to enjoy but don't have time to read. You can listen to them while you jog, or on long car rides / flights or while you cook and clean, but the only problem is that they tend to be more expensive than the print editions of the same book. For example, the Divergent unabridged audio edition is $14.95, and a used copy of Divergent in paperback is only $5.95 on Amazon.com. Even with shipping costs the print edition is cheaper, but that's where Audible comes in.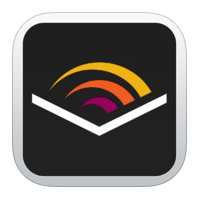 Audible is a subscription-based service from Amazon.com which gives members access to more than 150,000 audio book titles. If you listen to a lot of audio books, an Audible membership may be something you want to consider.
The free Audiobooks from Audible iOS app allows you to easily transfer book files to your iPhone, iPad or iPod touch, but you do need a membership to take advantage of this service. A basic monthly membership costs $14.95, but unlike most subscription services, you do not get unlimited access to Audible's audio book library. An Audible membership only gives you one free audio book a month (plus a free title with your free 30-day trial membership), however, it also gives you 30% off any audio books you purchase. Audible members also receive exclusive sales and promotions, and a free audio subscription to The New York Times or The Wall Street Journal.
30% of the Divergent audio book would make it around $10.50. That makes it around the same price as a used copy with shipping from Amazon.com, and $5.50 more than the Kindle version.
Audible also offers three other membership plans:
- 2 books a month for $22.95
- 12 books all at once for $149.50
- 24 books all at once for $229.50
Is Audible worth it?
Audible isn't really for people who listen to a few audio books a year. It is for people who tend to listen to one or more audio books a month. The $14.95 membership fee basically pays for your one free book a month, and it you will save a lot of money thanks to Audible's member discounts and promotions. Plus Audible allows you to exchange any audio book if you're unhappy, and it features really exceptional and helpful 24 hour customer service.
Here's a list of the Audible iOS features:
• Transfer books to your device over wi-fi
• Chapter navigation, bookmarking, sleep mode, variable narration speed, button-free mode
• Multitasking for background downloading and listening
• Earn badges and keep track of your listening habits
• NEW! Switch between reading and listening with Whispersync for Voice (compatible Kindle app or device required)
• Connect to Facebook and Twitter to let your friends know what you're listening to
• Get insider information about author events and more with the Audible Newsfeed
The Audible iOS app supports all devices running iOS 5 or later. Audible also works with most Android devices, Kindles and Macs and PCs.
You can start your 30-day trail membership by visiting Audible.com.