Submitted by Marshall Walker on
Apple's new iOS 5 has already been jailbroken by iPhone Dev Team member MuscleNerd who tweeted yesterday, "iOS 5 jailbroken: via limera1n + tethered boot... Not too many surprises." The tweet was accompanied by a picture (shown below) of Cydia and iSSH icons displayed on the screen of a 4th-generation iPod touch.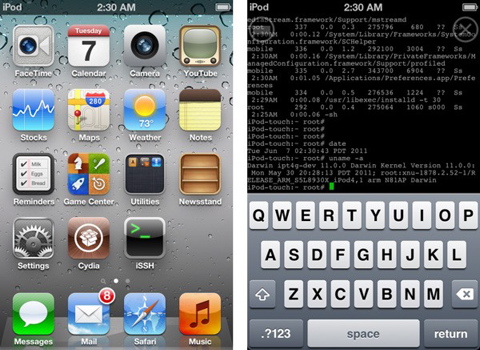 It looks like Apple essentially has done nothing to patch the known, existing exploits. Presumably this is because the next generation iPhone will have the iPad 2's A5 processor (or similar), which is not vulnerable to the existing bootrom exploits. In other words, though this jailbreak (a tethered one at that) delivers a jailbroken iOS5, it doesn't deliver a jailbroken iPhone 5 or iPad 2 running iOS 5.
Apple senior vice president Scott Forstall unveiled the first look at the iOS 5 at the Worldwide Developers Conference on Monday. It's currently available to developers in beta 1 form, and will be available for iPad, iPhone and the third- and fourth-generation iPod touch owners this fall.