Submitted by Bob Bhatnagar on
The latest version of Google Mobile for the iPhone features some great improvements, including push notification functionality. The mobile Google app (now at 0.6.0.4416) now features an icon badge with the number of unread emails on your linked Gmail accounts. Push notifications that pop up on your home screen can be sent when a calendar event is about to take place on your Google calendar schedule.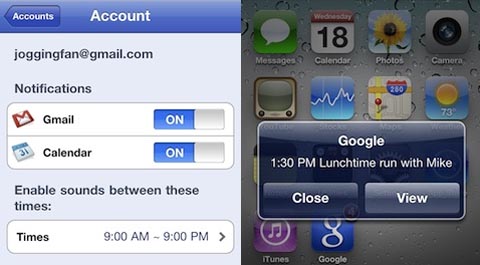 To activate these features, Settings -> Notifications must be set to ON and Sounds, Alerts and Badges must be ON under Settings -> Notifications -> Google. Push notifications can be further configured from within the Google Mobile app.
Another change in this version means that several search options will now populate the results field before you're even finished typing. Stock quotes, flight information, currency exchange, and weather information starts to pop up immediately as you type in the search field.
Google Mobile makes it possible to search the Internet with your voice by speaking a search term, or searching by location using the iPhone built-in GPS. The app supports several different languages and will accept a voice search by simply holding the iPhone to your ear. The app will suggest web queries as you type and the search history is easily accessible. Your own contacts as well as Google Images, Maps, News or Shopping can all be queried by Google Mobile.
The Google Mobile app also includes quick links to oher Google applications, such as Calendar, Gmail, YouTube, Maps and Google Earth, among others.